You've never seen a doomsday like it by Kate Garrett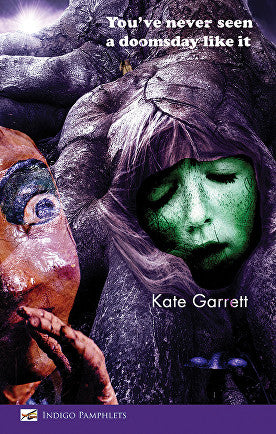 These are poems about surviving doomsdays. People use the word doomsday to describe the apocalypse, and apocalypse simply means 'an uncovering of knowledge'. Every life has its share of apocalyptic moments—not only great catastrophes, but also small secret revelations, and surprise twists of good fortune as well.
They leave you with lessons learned, and stories to tell.
"These poems have glittered paint on their earth-caked broken fingernails. They dance the path between this, and the otherworld. Their vision is as bright and as ancient as the moon."
Helen Ivory
Editor: Ink, Sweat and Tears
"Kate Garrett's poems stride dauntless across a nostalgic landscape. They cartwheel through youthful nights of lights out-stories to the graffitied hell of love and womanhood, stumbling steadily toward inevitable wonderment."
James H. Duncan
Editor: Hobo Camp Review
"Impassioned and otherworldly, You've never seen a doomsday like it is composed with shadows, "love built on endings", and a thin but stunning light in the dark—a glimpse of what can be reborn. Encompassing the grace of a natural storyteller, Garrett's poems unfold with haunting candor. Readers of this book will be transported where they unknowingly longed to be."
April Michelle Bratten
Editor-in-Chief: Up the Staircase Quarterly
Join the Poetry Book Society for 25% off all books