2022 T.S. Eliot Prize Bundle Offer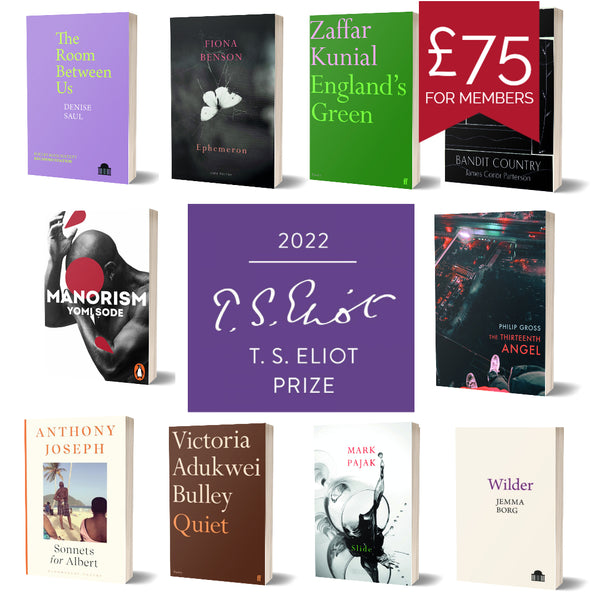 Congratulations to all the poets on the 2022 T.S. Eliot Prize shortlist which has just been announced! The Poetry Book Society are delighted to present this exclusive T.S. Eliot prize bundle offer, including all ten shortlisted titles at only £75 for PBS Members with free UK only postage, or £100 for non-members (£113 RRP) It's the perfect one-stop shop for all those planning to read their way through this prestigious shortlist in time for the award ceremony.
The bundle offer includes:
 * Yomi Ṣode - Manorism - Penguin
 * Denise Saul - The Room Between Us - Pavilion Poetry
* Victoria Adukwei-Bulley - Quiet - Faber
* Fiona Benson - Ephemeron - Cape
* Jemma Borg - Wilder - Pavilion Poetry (please note this book may arrive later)
* James Conor Paterson - Bandit Country - Picador
* Philip Gross- The Thirteenth Angel - Bloodaxe
* Anthony Joseph - Sonnets for Albert -Bloomsbury
* Zaffar Kunial - England's Green -Faber
* Mark Pajak- Slide -Cape
Please note, if you're an active PBS member your 25% discount will be automatically added during checkout. If this doesn't happen please email enquiries@poetrybooksociety.co.uk for the top secret code.
Free postage is only available to UK based customers, please email us for overseas delivery quotes.
Please note copies of Wilder have been delayed at the publisher's warehouse but we will supply them in December as soon as our copies are delivered.
Join the Poetry Book Society for 25% off all books