INSTITUTIONAL MEMBERSHIPS
If you're a school, college or university, then you can fill your poetry library in one easy annual institutional subscription. Our institutional memberships deliver the latest poetry books every quarter alongside the PBS Bulletin magazine, packed full of poems and reviews, to inspire your Literature or Creative Writing students. It's the perfect way to enrich and enliven your library with a wide range of contemporary poetry releases.
Bespoke packages are also available.
DIGITAL INSTITUTIONAL MEMBERSHIP
If you've run out of shelf space then check out our digital institutional membership. Universities, libraries and colleges, can now enjoy multi-user campus-wide access to our digital archive via our partners at Exact Editions. The fully searchable archive includes exclusive commentary by world class poets, in-depth articles, reviews and bibliographic listings. It's the perfect teaching aid and an invaluable resource for students of contemporary poetry, creative writing and world literature.
Email institutions@exacteditions.com for a quote and start your 30-day free trial.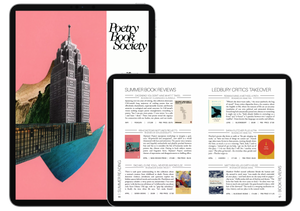 DIGITAL INSTITUTIONS ACCESS...
* Includes a fully-searchable archive of back issues.
* Unlimited IP-authenticated access and remote access.
* Your institutional logo displayed on your subscription.
* Cross-platform compatibility with all Web, iOS and Android devices.
* Usage reports, MARC records, KBART data *Excellent customer support via Exact Editions
BUY HERE
PBS membership allows both students and teachers alike an ongoing dialogue with the best of contemporary poetry via the PBS quarterly recommendations. We have followed PBS for many years and regularly invite poets via their recommendations into our school for readings and workshops. They find these inspiring: simultaneously broadening and deepening.
Peter Carpenter, Tonbridge School
The Poetry Book Society subscription is a wonder in keeping our collections up-to-date and contemporary

– Wolfson College Librarian, Oxford University
It is crucial that young people are afforded the opportunity to explore new and established voices in poetry and the PBS acts as a knowledgeable and experienced guiding hand, enthusiastically pressing recommendations into our hands like a bookish friend. Our poetry section in the library is enriched and enlivened by the quarterly choices.
- Gareth Ellis, Whitley Bay High School Librarian