Trio & Other Poets, Anne Hine, Ian Marriott and Kate Carruthers Thomas, et al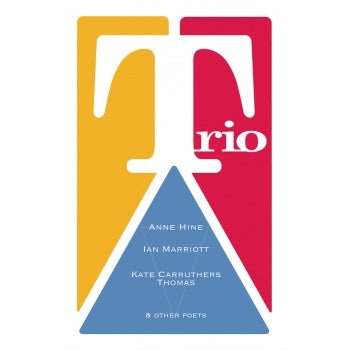 In Trio three emerging poets unite voices with the shortlisted poets of the Cinnamon Press Debut poetry collection competition to produce an eclectic and convincing anthology; lyrical, honed and richly layered.
Kate Carruthers Thomas was born in North Wales within spitting distance of the sea and Snowdonia. She spent much of her childhood on the high limestone grasslands of Minchinhampton Common in Gloucestershire and now lives in Sheffield on the very edge of the Peak District. Her poetry draws on landscape, on memory and relationship as well as life's large and small events. Kate's work as an academic researcher in the field of education is also influenced by the geographical and the psychosocial the interplay of space, place and emotion.
Anne Hine is a nun, a Sister of the Society of the Sacred Heart, who lived in the North-East for thirty years. She started writing in the early 90s and her first pamphlet, Dark Matters, published by Vane Women Press, appeared in 2001. Her second pamphlet, Interior, published by Red Squirrel Press, came out in 2015. Her work has appeared in various anthologies including Northern Grit, Rewriting the Map, Collecting Stones from Vane Women Press, Ink on Paper (Mudfog Press), The Eye of Temenos (Ek Zuban Press), and In Terra Pax (Cinnamon Press). She has continued writing using nature and the situations of life to reflect upon and has a pamphlet due out with Cinnamon Press in 2017.
Ian Marriott has been writing poems for over 20 years; part of his internal process is that personal experience is often refracted directly or indirectly through the natural world. Much of his life has been immersed in nature, from working as a woodsman or mountaineer, to spending time walking and climbing in remote areas of the world. This has included several seasons in the far "north" - some working, some playing - and three years living in Antarctica, working as a mountaineer for the British Antarctic Survey. On returning from Antarctica, Ian did an MA in Creative Writing (poetry) at the University of East Anglia in 2004/5 under the careful guidance of Denise Riley and George Szirtes, graduating with distinction, despite not having an undergraduate degree. In recent years he has been an active member in the Manchester Buddhist Centre poetry group. His collection won the Cinnamon Press debut poetry collection and will be published in 2017.
Join the Poetry Book Society for 25% off all books