Transparencies by Maria Borio, trans. by Danielle Pieratti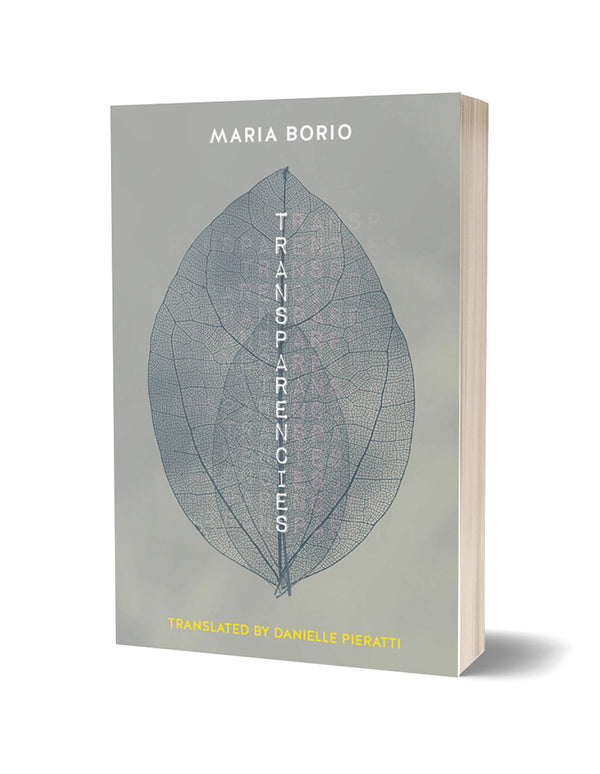 Maria Borio's TRANSPARENCIES is the visceral and surreal English-language debut of one of Italy's most promising younger poets.
Brimming with windows, screens, and high-rise glass, Maria Borio's first English-language collection confronts the interpersonal crises of contemporary lives caught between two worlds—one ancient and abiding, the other rapid, digital, and increasingly diverse. Translator Danielle Pieratti captures the dissonance of Borio's sharp lyricism and clipped rhythms, creating a contemporary English-language poetry that preserves the poet's engagement with Italian modernisms.
"In Maria Borio's TRANSPARENCIES, the language is anything but. These poems shimmer along the line between abstraction and flesh where our relationships — both intimate and public — are imagined and lived. At once surreal (bees emerging from mouths) and concrete (hair and fingernails in a drawer among neatly folded shirts), cosmic (in 'the sharp, lunar wind') and terrestrial ('in limestone' in 'high-rise glass'), Borio's words make realms collide. 'Can the city's vein have rhythm / beneath the feet of those who walk, / their obscene, transparent bodies?' she asks. Bodied forth into a supple English by Danielle Pieratti, whose renderings are as beautifully attuned to the shifts and multiplicities of Borio's original as they are to the possibilities of sound and line in translation, this is an exciting book." —Stefania Heim
"Can poetry be 'a vein where everyone's feelings seep in'? Can poetry be what survives translation? This book proves it can. Maria Borio's refined verse shines forth in Danielle Pieratti's crystalline translation, which is 'inscaped' and 'co-extensive with it' — borrowing Dante's image with Heaney's words. So let Danielle's translation be our 'secret entrance' to where 'the transparent marvel' at the heart of Maria's poetics is revealed as unmissable and uncorrupted news—a different mind map, a deeper eye empathy." —Marco Sonzogni
"Maria Borio's poems hunt the pervious instants when one fragile human gaze—across horizon lines, pixilated by screens, radiated into fluorescent isotopes—touches another. Danielle Pieratti lofts over into English what's diaphanous in Borio's Italian, those shifting transparencies that, like expressionist painting, care less for showing what things look like than in evoking atmosphere and mood. Solitude fills these poems. Humans 'lean heads against windows, lose intimacy. / Only fluorescent slivers between horizon and brain.' Yet Pieratti is equally responsive to Borio's urban images, those marvelous flashes when '[t]he sky presses down [and] our solitudes explode.'" —Penelope Pelizzon
World Poetry Books
Join the Poetry Book Society for 25% off all books