This Changes Things by Claire Askew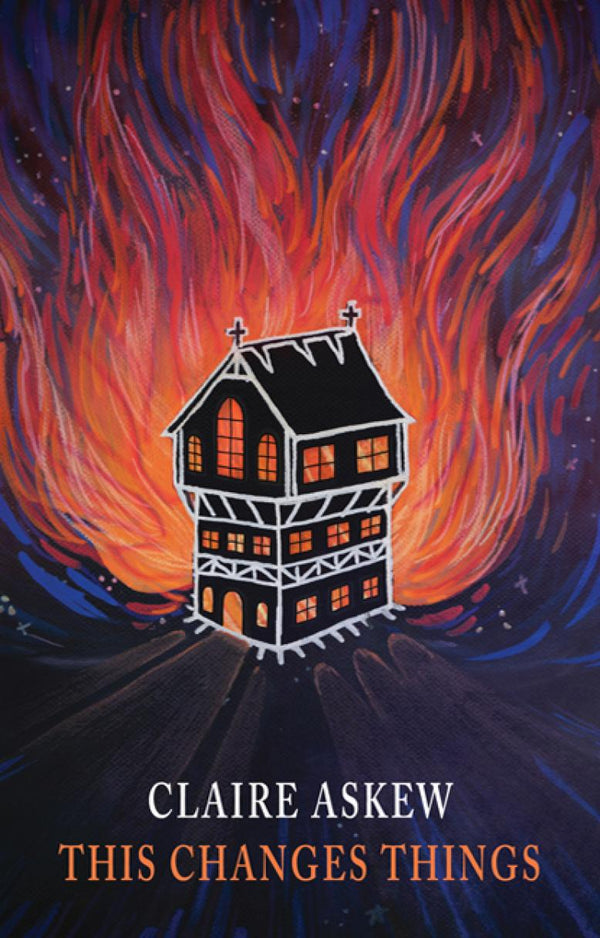 Shortlisted for the Michael Murphy Memorial Prize 2017
This changes things is Claire Askew's first full collection, coming after years of work in Scotland's flourishing poetry and spoken word scene.
Her poems focus on the lives and experiences of women – particularly the socially or economically marginalised – at pains both to empathise and to recognise the limits of this empathy. They embody a need to acknowledge and challenge the poet's privileged position as documenter and outsider, a responsibility to the poem's political message and to that message's human subject.
This changes things draws much of its strength from this exploration of inbetweenness. Claire Askew's purposeful deployment of objects, lighting effects and liminal spaces implicates her reader in the poem's argument, holds up a mirror and asks us to pay attention. The book's romantic relationships, depictions of frustrated travel or social mobility, are bound up in its awareness of the systems of power that permit no true state of innocence. Even the final poem, 'Hydra' – with its celebration of the body and its senses – cannot ultimately allow us off the hook.
This changes things unsettles the homely and recognisable. In its compromised, imperfect characters and narratives, it proposes a radical way of translating neoliberal Britain.
Claire Askew was runner-up for the inaugural Edwin Morgan Poetry Award in 2014 for an earlier version of This changes things. The judges' comments included:
Stewart Conn: 'Claire Askew's voice is arrestingly and distinctively her own, imbued with a sense of caring and inducing, in her more intimate moments, a scarcely bearable poignancy.'
Jen Hadfield: 'Askew's is a humane consciousness, with a genius for communicating how people tick… She writes with an agenda compellingly, harnessing flashes of imagist brilliance.'
'Claire Askew doesn't mince words: she revels in them, pretty or dirty, and hammers them into strange and kenspeckle amulets, talismans against loss, death, isolation…. Looking into the future with 'no innocence', haunted by the past, the allusive, mysterious work at the core of this collection will take Claire Askew far.' – Pippa Little, The Lake
'This changes things is, admirably, a feminist collection - deeply concerned with women's lives, in all their strength and vulnerability.  But Askew has a capacious eye; in the slow-burning second half of the book... some strong poems documenting travel... suggest a poet whose next steps are attractively difficult to predict... Askew is the real thing, and everyone should buy this debut.' - Kathryn Gray, Magma
'…an excellent debut from a promising new voice in Scottish poetry.' – Leaf Arbuthnot, Times Literary Supplement
'I adored William Letford's raw and intimate second collection, Dirt, as well as Claire Askew's heart-twisting debut, This Changes Things.' – Kirsty Logan, The Herald (Books of the Year 2016)
Join the Poetry Book Society for 25% off all books