The Rain Barrel by Frank Ormsby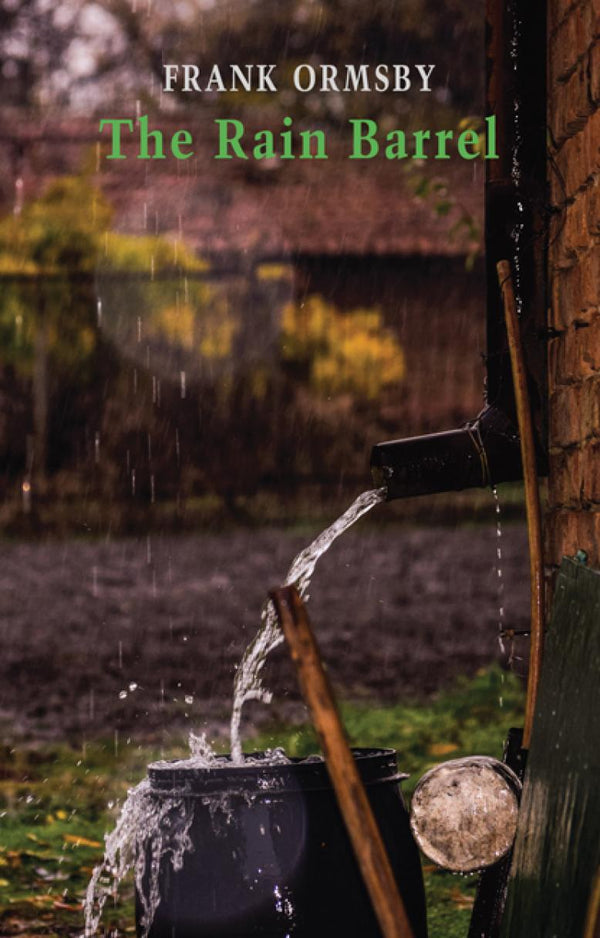 Frank Ormsby's seventh collection of poems reflects not only the beauty of the Irish landscape and the sensuous and aesthetic impact of the small farms among which he grew up, but also the continuing violence of the 'Troubles'. Close to the surface of mountain and bogland lie the hidden graves of the 'Disappeared'.
Ormsby continues to make vivid use of the short, resonant poems which were a striking feature of Goat's Milk and The Darkness of Snow. Here too the content is often delivered and reinforced through rich, contrasting images within or between poems: the scarlet flowers growing in a black kettle, the fuchsia that is both 'redolent of old battles' or a 'peaceful tapestry in the annals of stone'. Among the personae of the collection is the obliging father who volunteers to be buried by his children up to the neck in sand within sight of but some distance from  the 'cold shadow of the mountain'.
The elegiac note that echoes through the poems rarely darkens the mood. Ormsby's wit and humour, his sly sense of the absurd and what might be called his affection for the living and the dead draw the reader into considering the conviction that it is sometimes 'possible to believe / that joy grows irresistibly at the roots of everything'.
From the reviews of Frank Ormsby's Goat's Milk and The Darkness of Snow:
'Frank Ormsby belongs to that extraordinary generation of Northern Irish poets which includes Ciaran Carson, Medbh McGuckian, Paul Muldoon and Tom Paulin. He is a poet of the truest measure… From his earliest work Ormsby has favoured a natural shapeliness… A plain-speaking, down-to-earth utterance may be the norm, but it teeters on the verge of taking flight, and sometimes gives way to an exquisitely refined lyricism.' – Michael Longley
'Goat's Milk: New and Selected Poems, by Frank Ormsby, reminds us why we missed this poet's wry and concise voice during the 14-year gap in his writing life; and the new poems extend and ratify his unique angle of vision.' – Patricia Craig, Irish Times (Books of the Year 2015)
'Continuing an impressively strong start to the year for Irish poetry… Frank Ormsby's latest is both a retrospective as well as a vehicle for new work.  It evokes both his family life and Fermanagh's rural past in a poetic form which, as Michael Longley puts it, "teeters on the verge of taking flight".' – Michael Conaghan, Belfast Telegraph, on Goat's Milk
Join the Poetry Book Society for 25% off all books