The Big Amazing Poetry Book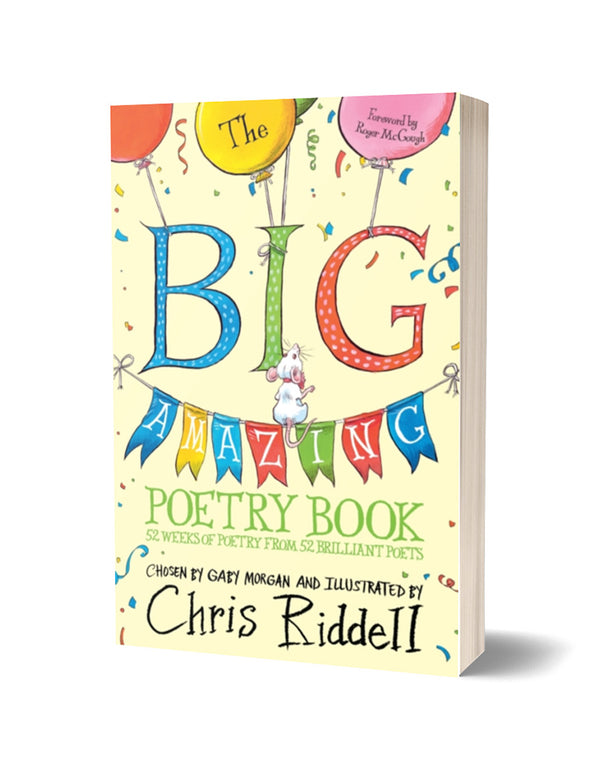 A brilliant introduction to 52 fantastic poets introduced by Roger McGough and illustrated by Chris Riddell. The Big Amazing Poetry Book is a warm, funny collection snd packed with different styles of poetry - ballads, riddles, tongue-twisters, shape poems, haikus, sonnets and raps - about seasons, festivals, animals, birds, love, war, food, fish and football and much more. There are 7 poems and a biography to showcase each poet and stunning line artwork on every page.

Includes poems from: John Agard, Ruth Awolola, Gerard Benson, James Berry, Clare Bevan, Brian Bilston, Valerie Bloom, Liz Brownlee, Steven Camden, Lewis Carroll, James Carter, Charles Causley, Mandy Coe, Joseph Coelho, Dom Conlon, Paul Cookson, Pie Corbett, Shauna Darling Robertson, Jan Dean, Peter Dixon, Julia Donaldson, Carol Ann Duffy, Eleanor Farjeon, John Foster, Nikita Gill, Chrissie Gittins, Martin Glynn, Matt Goodfellow, Sue Hardy-Dawson, David Harmer, A. F. Harrold, Jenny Joseph, Jackie Kay, Ian McMillan, Wes Magee, Roger McGough, Michaela Morgan, Brian Moses, Laura Mucha, Grace Nichols, David Orme, Gareth Owen, Brian Patten, Rachel Piercey, John Rice, Coral Rumble, Roger Stevens, Nick Toczek, Kate Wakeling, Zaro Weil, Colin West and Kit Wright.
Macmillan Childrens
Join the Poetry Book Society for 25% off all books