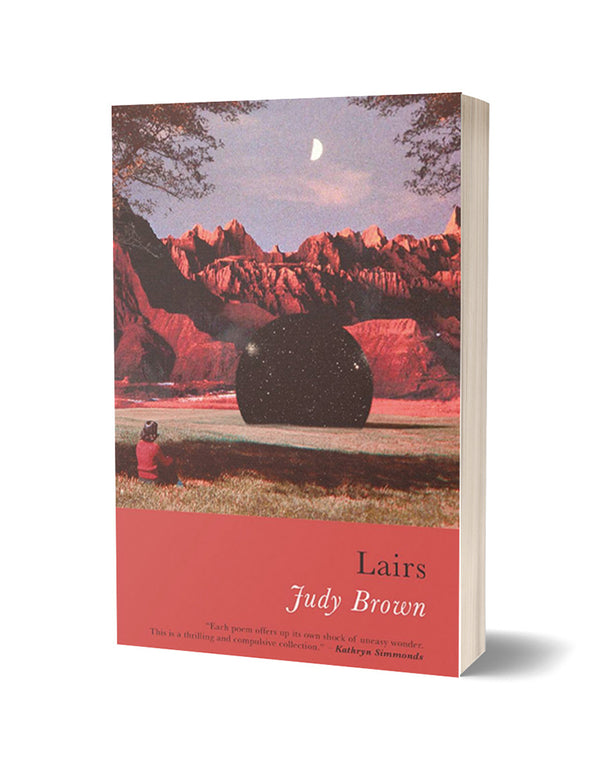 This is a third collection from Forward-Prize-nominated poet, Judy Brown, following her well-received debut (Loudness, 2011) and second book, (Crowd Sensations, 2016). Lairs brings together something primal and secret – the lair as haven for a wild or feral animal – with the poem framed as a mathematical equation. In physical and mathematical terms, the 'lair' is a kind of nest, a beautiful accumulation of dense detail.
This tension of order and disorder in these poems is informed by mathematics after Brown's important residency at the Institute of Data Science and Artificial Intelligence at Exeter University. Brown's writing is inspired by Uncertainty Quantification, a branch of mathematics that seeks to estimate the uncertainty on model predictions. In 'Some Security Questions,' this lack of certainty is emphasized when statisticians respond to being asked, 'What were the stupid questions?' They reply: 'There are none,' but we are reminded 'this was maths, so they could / be out there, capable of being asked.' In mathematics and in life, hopes for an orderly existence chafe against the uncertainty of a chaotic reality.
In this way, Lairs dynamically connects to the contemporary moment including the fervid atmosphere of lockdown and the ongoing pandemic. The collection also considers post-Brexit life with a mocking of establishment conservatism and business-speak: 'Corporate fish, you're bright as pain,' Brown tells us in 'Fish. Oh. Fish'. With deft sleight-of-hand, Brown writes with deep intimacy whilst also registering seismic social and political shifts. 'Settings' for example tells the story of finding a real tick attached to the body of the narrator, but it becomes much more: 'On the internet they were vile and interesting, / hard-bodies with a corona of grippy legs.' The tick infects not only the body but the body politic via the public space of the internet. Brown shuns an easy populism, embracing complex music, and the poem ends by conveying both fear and the process of slow infection.
Always in Lairs, a sense of unruliness challenges rules, prescriptions, constrictions. This energy is animal and feral, but it is also the pure chaos of mathematics, impossible to constrain. Brown's remarkable poems are innovative in their use of language, but they also maintain moments of vulnerability and moving self-awareness. In these exquisite poems, the lair is both the community at large and a dark and intricate interior space where something wild still survives.
Seren Books
Join the Poetry Book Society for 25% off all books