Dastram/Delirium by Alasdair Mac Mhaighstir Alasdair, trans. by Taylor Strickland
Poetry Book Society Translation Choice Summer 2023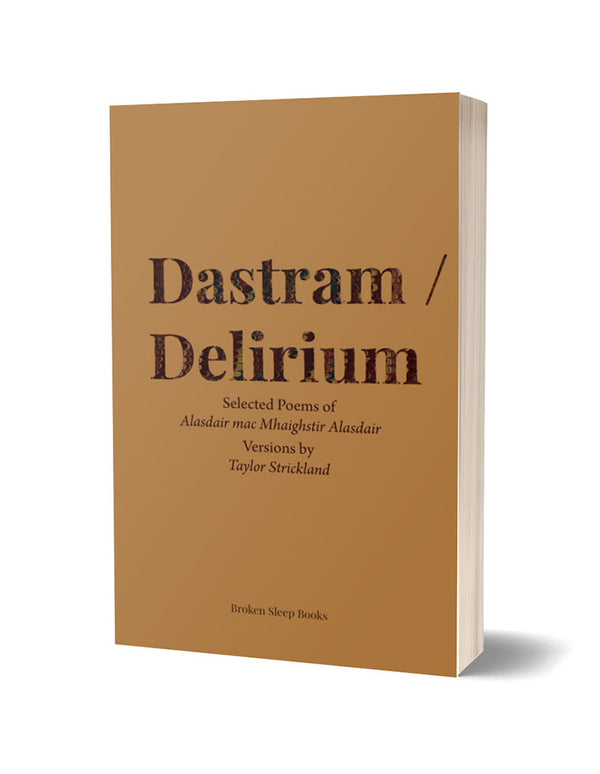 Dastram / Delirium samples the soaring verse of one of Scotland's pivotal poetic talents, Alasdair Mac Mhaighstir Alasdair. Formal innovation, political protest, revelry in nature, and erotic praise poetry are all contained here, the first full-length collection of Alasdair to appear in English in over a century. An Enlightenment mind and contemporary of Pope, Hume and Burke, his poetry should have been the indigenous genius Samuel Johnson and James Boswell sought out in their now-infamous literary tour through the Highlands and Islands. Though much-celebrated within his native Gaelic language, Alasdair's poetry is as much neglected outside of Gaelic. But now, in novel literary translations by Taylor Strickland, readers can re-visit his oeuvre and restore his name to the wider literary conscience.
Taylor Strickland is a poet and translator from the US. He is the author of Commonplace Book and Dastram / Delirium. His poem 'The Low Road' was adapted by American composer, Andrew Kohn, and performed in Orkney. His poem 'Nine Whales, Tiree' is in the process of being adapted to film with filmmaker Olivia Booker and composer Fee Blumenthaler. He is currently a doctoral candidate in literary translation at the University of Glasgow, and he lives in Glasgow, with his wife, Lauren.
Broken Sleep Books
Join the Poetry Book Society for 25% off all books