Cooking with Cancer by Julian Flanagan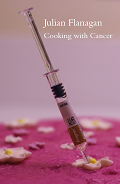 Cooking with Cancer
 is poetry served up in the form of a menu: Starters, Main Course, Afters, Digestif. 
"Flecked with arresting imagery, 
Cooking with Cancer
 looks, and looks again. Matter-of-factly, it refuses to flinch." - Mario Petrucci.
This poetic chronicle, spiked with humour, leads the reader through an unpredictable odyssey as cancer interrupts life and life interrupts cancer, as loyalty and belief are tested, and as the author is ambushed by the idiosyncrasies and changing ages of love.
Julian Flanagan was born in Peru in 1962, brought up in India, Cheshire and Dubai, and educated at Stonyhurst and LSE. After 20 years as an advertising copywriter, he became a freelance journalist. His interviews and features have appeared in 
The Times, The Daily Telegraph, The FT Weekend, FT Magazine, Time Out, The Independent on Sunday
 and 
economist.com
. Over the last 25 years his poetry has been published in magazines such as 
Ambit, Brittle Star, Envoi, Ink, Sweat & Tears, Iota, The Manchester Review, The Rialto, Seam
 and 
The Spectator
. He lives in London with his wife and three children. 
Join the Poetry Book Society for 25% off all books