British Museum by Daljit Nagra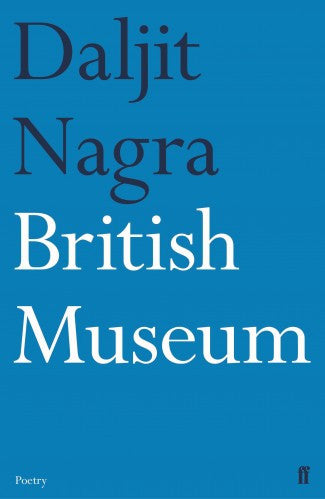 Daljit Nagra possesses one of the most distinctive voices in contemporary English poetry. British Museum is his third collection, following his electrifying version of the epic Ramayana, and marks a significant departure of style to something quieter, more contemplative and inquisitive, at times valedictory. His political edge has been honed in a series of meditations and reflections upon our heritage, our legacy, and the institutions that define them: the BBC, Hadrian's Wall, the Sikh gurdwaras of our towns, the British Museum of the title poem. With compassion and charisma, Nagra explores the impact of the first wave of mass migration to our shores, the Arab Spring, the allure of extremism along with a series of personal poems about the pressures of growing up in a traditional community. British Museum is a book that asks profound questions of our ethics and responsibilities at a time of great challenge to our sense of national identity.
Daljit Nagra was born and raised in West London, then Sheffield. He currently lives in Harrow with his wife and daughters. In 2004 his poem 'Look We Have Coming to Dover!' won the Forward Prize for Best Individual Poem, and his first collection of the same name won the 2007 Forward Prize for Best First Collection, was shortlisted for the Costa Poetry Award and won the 2008 South Bank Show/Arts Council Decibel Award. Tippoo Sultan's Incredible White-Man-Eating Tiger Toy-Machine!!! (2011) and the Ramayana (2013) were both shortlisted for the T. S. Eliot Prize. He teaches at Brunel University London and is currently Poet in Residence at BBC Radio 4 and 4 Extra.
Join the Poetry Book Society for 25% off all books