712 Stanza Homes for the Sun by Cat Chong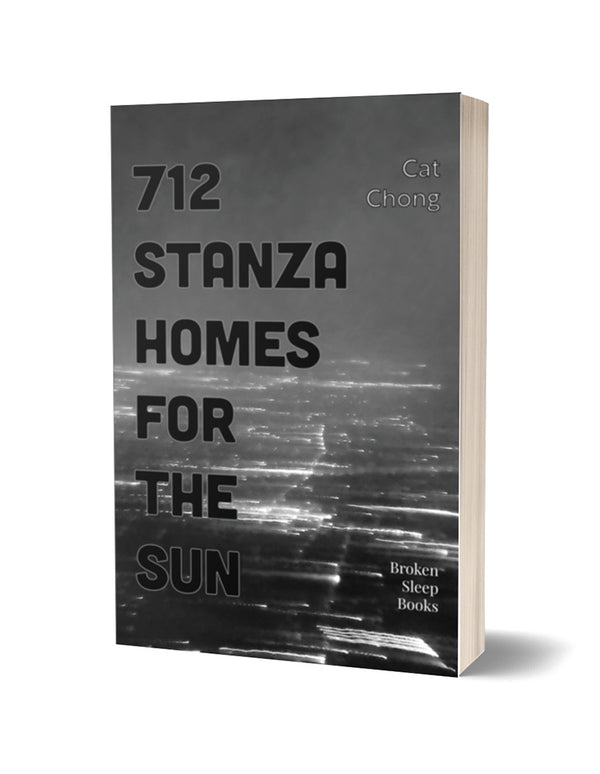 In 712 Stanza Homes for the Sun Cat Chong gives voice to populations at the intersections of gender, literary genre, disability, race, and chronic illness. The hypnotic collection is complimented by a compelling array of internet screenshots: instagram, twitter, wikipedia etc to question how poetic language might replace dehumanising medical terminology and disrupt realities of state violence. This work engages with entangled and overlapping environmental, gendered, colonial, and medical systems and practices to inquire after radical models of love, solidarity, and care.
PRAISE for 712 Stanza Homes for the Sun:
Thank you for your brilliance, dear poet! Cat Chong has given us an oracle born from a digital wave in all its entanglements, political, feral, singed, resilient, all very human! This living poem enfolds shards of itself onto the page, into our imaginations; I love the poet's insistence on how we understand each step to be together again after many recent falls.
   — CAConrad 
Cat Chong is a thrilling new voice in poetry. This is a book of discoveries, arriving at a poetic that is experimental and alive, erudite and considered. 712 Stanzas is a vital read.
   — Joelle Taylor
A necessary hymnal for and from the collective moment 'when we could no longer tell what was cake and what / wasn't', Cat Chong's 712 Stanza Homes for the Sun sings with and in praise of density, immediacy, specificity and with a canniness of the uncanniness of digital intimacies and (dis)integrations. With room for Zooms, notes, photographs, cats, climate chaos tweets and other materialities, this collection is a home for ephemera in its full sense of what makes up our days, dailiness, daylight, containing multitudes as the cotyledon stores sunlight. These poems are – and instruct us to – 'seed messages', nourishing (to use Lola Olufemi's term) packets that contain many future poetries within them through the honour they offer to substance/s, traces, patterns, crumbs of what could be. Recognising that 'we don't own / the vector along which data moves', including within our own material existences, Chong models poetry as the weight of a refusing body on the levers of production and social reproduction, a cripqueer disruptor that moves, through a riot of language, against borders and controls. As they say, multilayering with irony and desire:
—it was all still a version of happiness—the lexicon of 
the age—it announced us as small fragments—of larger crises— 
   — So Mayer
712 Stanza Homes For The Sun is a vibrant and innovative record of the pandemic unlike any other –  found text and images, tweets, emails, photographs, quotations from writers and loved ones interweave with fragmented narration and the intervention of roving macaques – so that not just gender and genre and sickness are queered, as Chong writes, but the pandemic itself. These poems are equally playful and eviscerating – drawing together disability justice, climate justice, critiques of colonialism, capitalism, state control and genocide – yet still finding shimmering beauty in this world in crisis. Chong's is a unique and vital voice in poetry – 'bearing witness to the ways in which we all fall apart'.
   — Polly Atkin
These are startlingly original mappings, sensings, soundings, of what it means to live in these desperate times. The poetics here may be disruptive, dissociative, discontinuous, but these poems are also making subterranean connections between what seem disparate and fragmented, discovering narratives between places, times and lives. These are border-crossing, genre-bending prose poems, boldly transgressive, their liminal and cosmopolitan lens producing a new cartography of the realities and border-zones we now inhabit.
   — Boey Kim Cheng
About Cat Chong:
Cat Chong is a a poet, publisher, and PhD student at Nanyang Technological University, Singapore where their research considers the intersections between gender, genre, disability, and chronic illness. Their debut pamphlet Plain Air: An Apology in Transit was published by Broken Sleep Books in 2021.
Broken Sleep Books
Join the Poetry Book Society for 25% off all books