Northern Alchemy by Christine De Luca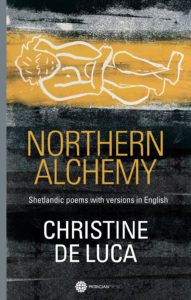 A bi-lingual collection of 40 poems, each in the original Shetlandic, along with a version in English. The poems will be selected from several of Christine De Luca's collections along with some as yet unpublished poems.
Shetlandic is a unique 'dialect' or language, a blend of Old Scots with strong Norse vocabulary and sound; the most distinctive within Scotland. Nordic poets, when they hear it, describe it as a 'cousin language'.
JOIN THE POETRY BOOK SOCIETY TODAY TO GET 25% OFF THIS BOOK
Join our lively poetry community for a year of carefully curated poetry parcels delivered to your door. If you join as a new Choice Member today, you'll immediately receive a FREE poetry parcel!
Your bonus bundle will contain the PBS Spring Choice, a dazzling debut collection RENDANG by Will Harris, and our beautiful Spring Bulletin magazine - full of poems, reviews and interviews to keep you entertained in self-isolation.
You'll also get your whole year of quarterly poetry parcels delivered straight to your door, as well as 25% off all books at www.poetrybooks.co.uk, so that's FIVE PBS poetry parcels for the price of FOUR!
Join the Poetry Book Society for 25% off all books