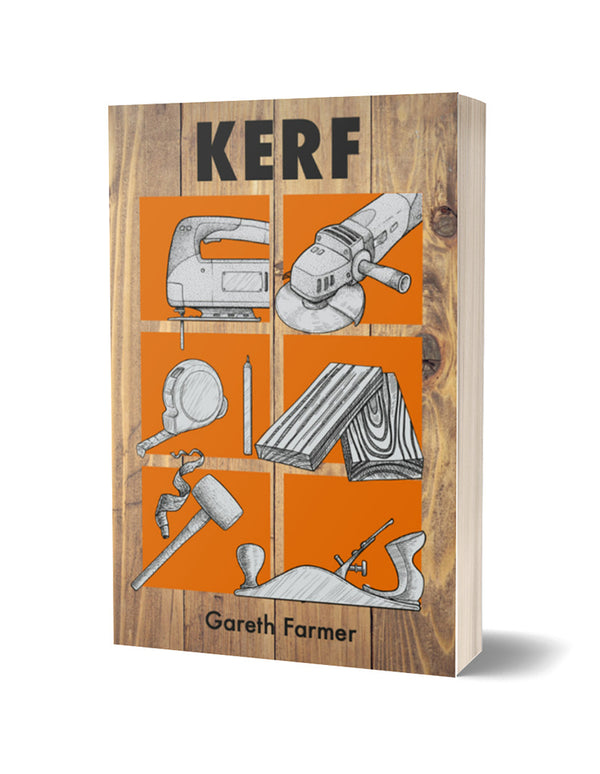 Gareth Farmer is an autistic poet and lecturer in English literature. He writes on poetry and experimental writing in his academic capacities; in his poetic capacities, he has published a number of books including, Diurnal Sweigh (2017) and Strategic Forms (2021).

Kerf features poems about woodworking, craft, labour, autism and, in particular, the unique languages and language practices of each of these non-discreet areas of activity. While all the poems of Kerf overtly hint and covertly glimpse these themes, the last, long poem sequence, 'What's That: Instead of Ego', attempts to write about three things at once: the planning and execution of a non-specific woodwork project; woodworking and craft in general, and the strange process of being diagnosed with Autistic Spectrum Disorder. Kerf also features a useful glossary of woodworking terms. Kerf is for fans of woodworking and poetry alike.

Verse is a form of turning, aligned with Fortune's wheel, lathe work, and trickery. Kerf offers a profusion of tools and tricks, documentary wordplay and advanced poetic joinery, turning wood and word in awkward spaces into an assemblage that tests how far poetry can go beyond functionality. When 'you can't get the chamfer tool to bite the jagged edges', you can always enjoy this abundance of sticky language that queers 'the pathology of perfection' and turns poetry's decorous objects on their heads.
the87press
Join the Poetry Book Society for 25% off all books