Zoology by Gillian Clarke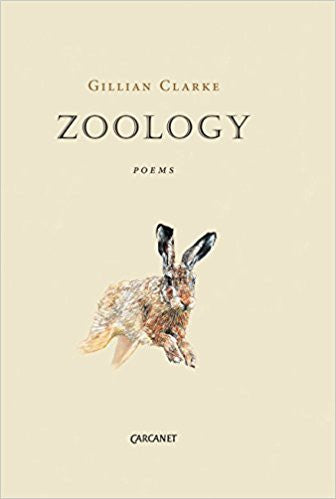 Zoology is Gillian Clarke's ninth Carcanet collection, following her T. S. Eliot Prize-shortlisted Ice. The collection opens with a glimpse of hare, whose 'heartbeat halts at the edge of the lawn', holding us 'in the planet of its stare'. Within this millisecond of mutual arrest, a well of memories draws us into the Welsh landscape of the poet's childhood: her parents, the threat of war, the richness of nature as experienced by a child. In the second of the collection's six parts we find ourselves in the Zoology Museum, whose specimens stare back from their cases: the Snowdon rainbow beetle, the marsh fritillary, the golden lion tamarin. 'Will we be this beautiful when we pass into the silence, behind glass?' In later sections the poet invites us to Hafod Y Llan, the Snowdonian nature reserve rich in Alpine flowers and abandoned mineshafts, 'where darkness laps at the brink of a void deep as cathedrals'. Clarke captures a complete cycle of seasons on the land, its bounty and hardship, from the spring lamb 'birthed like a fish / steaming in moonlight' to the ewe bearing her baby 'in the funeral boat of her body'. The poems tap into a powerful, feminist empathy that sees beyond differentiations of species to an understanding deeper than knowledge, something subterranean, running through the land. Zoology closes with a series of elegies to friends, poets and peers, and poems remembering victims of war and tyrannical regimes. 'Like a bird picking over / the September lawn, / I gather their leaves. / This is what silence is.' Then our hare, that 'flight of sinew and gold', is spotted one last time: 'a silvering wind crossing a field, / two ears alert in a gap / then gone'. 
Zoology will be published August 2017. Available for pre-order.

Join the Poetry Book Society for 25% off all books