with your chest by Remi Graves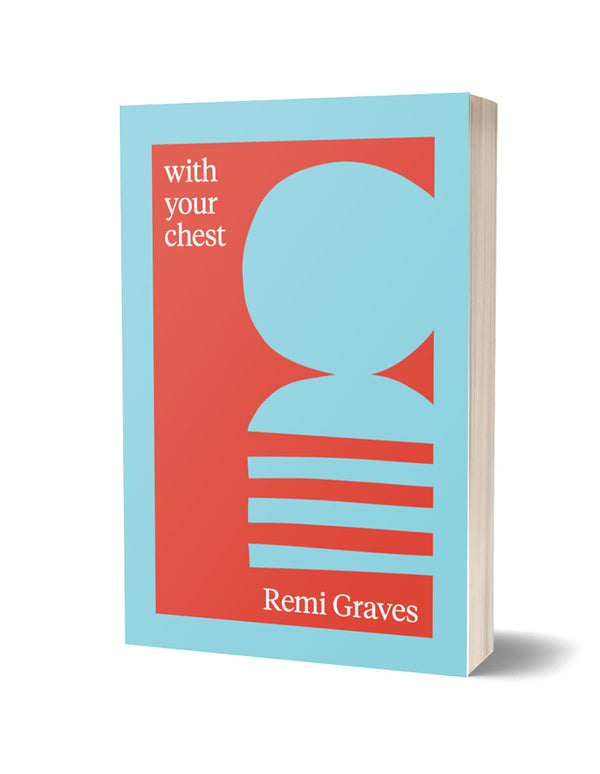 Pulling at the cords of gender's curtains, watchful of the slippages of our performative masks, With Your Chest is a luminously generous and vulnerable debut from Remi Graves. Their poems do justice to the failures and violences of category and yet — thirsting for more than this — are courageous enough to refuse to rest there. In a spirit of playfulness, of childhood, of starlings, Graves' poems glance towards the edges from which we leap, attentive not to where we might land, but to how we might take flight.
Victoria Adukwei Bulley
Reading With Your Chest, I'm most dazzled by Remi Graves's restless, inventive imagination. Through linguistic and formal transformations, we follow a speaker wrestling with the mind's capacity for harm and consolation. Graves understands the pleasure and power of fantasizing, summoning boxers and cockapoos, Spiderman and Lisa Bonet in these meditations on desire, race, and the body. Pick up this pamphlet, you too will feel the fantasy.
Derrick Austin
'where do you go / to write a body' sets forth the speaker at the beginning of Remi Graves' beautifully crafted series of poems. What follows is a mesmeric exploration of betweenness and queer longing; a candid mode of pondering upon the embodied experience of trans navigation with the world, of conditioned adaptation to the threat of existing – 'I hear them ask almost through gritted teeth / are we men?' A facet of what makes Graves' lines so impactful is their kaleidoscopic observation towards the potential of an actualised self; of the speaker, the animals and individuals they witness; and its limitations in practice – 'but you don't / know not to look at a ghost / unless you can see it'. I really related to and loved this pamphlet, which so assuredly announced Graves as a vital voice in poetry. Their astute reflections on gender, race and the attractions that move us will stay with me.
Peter Scalpello
The hotly anticipated debut pamphlet from Remi Graves will be landing on September 26th and you can pre-order now!
Remi's collection of poems looks at race, gender, childhood and relationships. There's poems about bodies, sex, injustice and love. We can't wait for you to fall in love with them.
Remi Graves has been published in our anthology (Unwritten opened Issue 4).
A former Barbican Young Poet, Remi's work has been featured on BBC Radio 4, at St Paul's Cathedral and elsewhere. Recent commissions include 'don't text me, i'm dreaming' for Apples and Snakes and 'On Breathing' for Barbican Centre. Remi has taught courses at The Poetry School and delivers workshops in schools and libraries across London and UK. Remi was a 2017 National Poetry Day Ambassador and has performed at Cheltenham Literature Festival, Tate Modern and more.
fourteen publishing
Join the Poetry Book Society for 25% off all books