Why I No Longer Write Poems by Diana Anphimiadi, trans. By Jean Sprackland & Nadia Bukia-Peters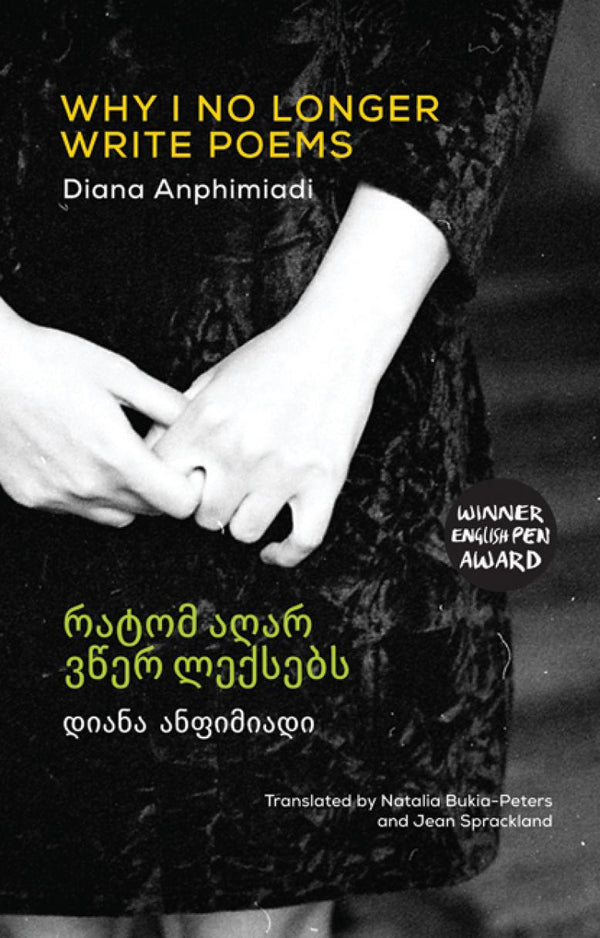 Diana Anphimiadi is one of the most widely revered Georgian poets of her generation. Her award-winning work reflects an exceptionally curious mind and glides between classical allusions and surreal imagery. She revivifies ancient myths and tests the reality of our senses against the limits of sense. Boldly inventive, prayers appear alongside recipes, dance lessons next to definitions. Her playful, witty lyricism offers a glimpse of the eternal in the everyday.
The poems in this selection have been collaboratively translated into English by the leading Georgian translator Natalia Bukia-Peters and award-winning British poet Jean Sprackland. A chapbook selection of their translations of Anphimiadi's work, Beginning to Speak, was published in 2018 and praised by Adham Smart in Modern Poetry in Translation for capturing the 'electricity of Anphimiadi's language' which 'crackles from one poem to the next in Bukia-Peters and Sprackland's fine translation'.  
'Demonstrating formal range and subversiveness, Anphimiadi blends classical images and myths with contemporary techniques, dilating the boundaries of the poetic form. Prayers, recipes, dance lessons, definitions — this accumulation of the unspoken everyday comprises the collection of raw materials in Anphimiadi's poetic bricolage.' –  Matt Janney, The Calvert Journal (Books from Eastern Europe to look forward to in 2022)
'This collection by a leading Georgian poet is part of the Poetry Translation Centre's programme commissioning British poets – here, Jean Sprackland – to work with literary translators. In this case, that's Natalia Bukia-Peters, who also provides a knowledgeable Introduction setting this work in the national context of epic poetry, and of a vocabulary of myth. For this is gorgeous, fabulising verse.... Bloodaxe is especially to be commended for publishing this important work in bilingual edition.' - Fiona Sampson, The Guardian, Best recent poetry
Join the Poetry Book Society for 25% off all books