What Planet by Miriam Gamble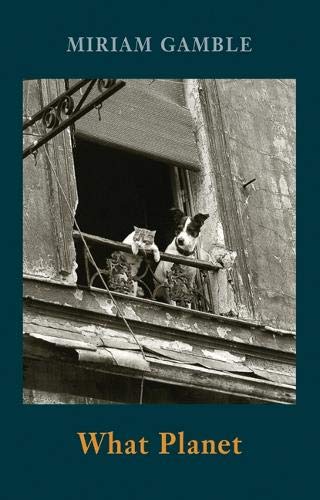 The poems in Miriam Gamble's third collection journey surreally through scenes and landscapes at once of the world and of the mind, finding little, as they go, that 'can be claimed self-evident'. By turns uncanny, dark, poignant and uproarious, What Planet sets the individuality of perception and the inventiveness of memory against fixed certainties, probing chaos and madness in a post-truth world. 
Rhythmically propulsive and dizzyingly inter-connective, Gamble's new work is as formally adventurous as it is conceptually distinctive, stretching syntax, jumbling the solid and spectral, crossing borders of time and space.  Yet this is also a collection pained by loss, and passionate to connect with a life's 'vacated' corners – even if the act of remembering is as much creation as recovery.
'Gamble can be very funny as she winds up grandly rhetorical phrases for seemingly inconsequential events… The book's best poems offset that witty, jiving, occasionally arch voice with tender, slower effects...' – John McAuliffe, Irish Times, on Pirate Music
'These poems… understand the relation between form and violence, understand that craft and control can be acts of brute force too – against the other, even against the self. The Squirrels Are Dead is a collection of extraordinary formal versatility and skill.' – Fran Brearton, Edinburgh Review, on The Squirrels Are Dead
'Experimental and wide-ranging, her work is by turns lyrical, surreal and quirkily humorous. Her debut collection shows that she is already a writer of considerable achievement and one who looks set to promise more in the future.' – David Cooke, The North, on The Squirrels Are Dead
'What separates her from the thousands of other poets with a gift for sharp description, is the complexity and tautness of her arguments… Gamble's intelligence is what makes these poems a pleasure to read.' – John Clegg
Join the Poetry Book Society for 25% off all books