Washing Lines: A Collection of Poems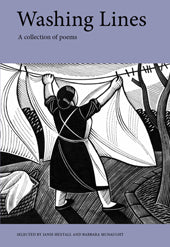 When Lautus published Washing Lines in 2011, they found to their delight that they were not the only people in the world who love washing lines and poetry. The book sold out quickly, hence this new revised edition which replaces some poems with new or previously undiscovered work (highlighted in the contents list).
All the poems in this anthology are about laundry and washing reflecting many human emotions to do with family, relationships and memory.
So whether it is the joy of washing blowing on the line, the smell of clean linen or the rhythmic dance of two people folding sheets together, this revised collection is a continued celebration.
Join the Poetry Book Society for 25% off all books