Wanted by Tiffany Anne Tordut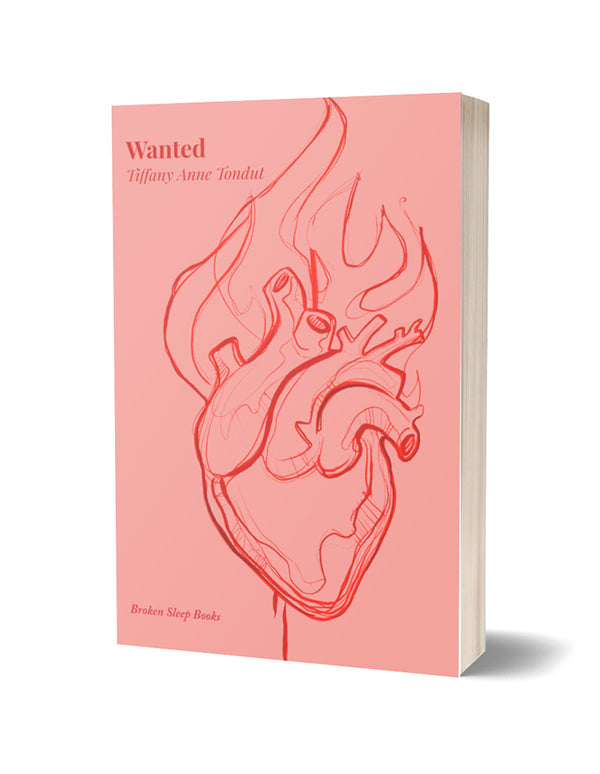 Wanted is chiefly a book about the resilient female spirit, containing the idea of resilience as much as female abuse and sacrifice.  The resulting monologues are ranging in style - from outlaw to lyric and dialect - yet cohere through themes and forms as they explore what it means to want and be wanted: women munitions workers wanted by the government, a daughter wanting relief for her suffering father, the desire for love and self-worth, a Goddess wanting to shatter the perfect pane – taking issue with her so-called God.
PRAISE for Wanted:
Brutal, unsettling and yet seductive. Reading these poems feels like watching a great film in which the heroine shape-shifts refusing to be identified as any one woman – at once femme fetale, factory girl, windswept ingenue, grieving daughter, and contemporary lover side-eyeing the camera with a healthy dose of irony. Death, sex and cashmere… what more could you ask for?
— Ella Frears, Shine Darling
The poems of Wanted are stylish in the enduring way of the very best poetry, and they are substantial. Their substance is language and history, always personal, whether the simulacrum of a love affair or the lot of the canary girls and their children in the Second World War. Their substance is life's crucial landscapes of love and death seen through literature and visual art. Their style virtuosically transfigures substance in a new language.
— Kimberly Campanello, Mother Baby Home
These vignettes of contested memories, and stories lurking behind stories, are pin-sharp when it comes to the moments that matter: the ones that linger. Wanted has the air of the last cigarette you know you shouldn't smoke, but my god it's worth it. 
— Rishi Dastidar, Ticker Tape
Wanted lives up to its title – addictive, obsessional and dangerous. The collection fizzes with great titles that are tart and compelling, plunging the reader on a passionate love affair with poems inhabited by protagonists from art, literature, and myth. Tondut's handling of colour and image, and boldness of address are exceptional. These are poems that get under the skin and electrify the blood, making your heart beat that bit faster, echoing the sharp pace of Tondut's cracking lines and her sublime feel for drama. If a bullet through the heart is implicit, it is faced with attitude. Dorothy Parker's spirit is conjured in poems alive with wit and bravado that are not afraid to take a risk and push language off the white cliff of a line-break. Formally and linguistically inventive, Tondut's debut pamphlet is as exciting as it is sensual, with a feminist core, which leaves the reader buoyed and ready for any showdown. 
— Lisa Kelly, A Map Towards Fluency
ABOUT Tiffany Anne Tondut:
Tiffany Anne Tondut is a neurodivergent poet and artist living in London. She was a winner of the inaugural Poetry Archive Now! Wordview 2020 competition, and a winner of the Troubadour International Poetry Prize 2015. Her work has been broadcast, commissioned, exhibited, anthologised and published in a number of publications including The Rialto, Magma, The Guardian Online and Best British and Irish Poets. In 2015, she founded poetry press Laudanum. Tiffany has taught both written and performance poetry for The City Lit, and performed for The Festival of Britain and National Theatre Wales. Her debut chapbook The God of Love is Stained was published by Silkworms Ink in 2013. 
Broken Sleep Books
Join the Poetry Book Society for 25% off all books