Wading into the Light by Mel McEvoy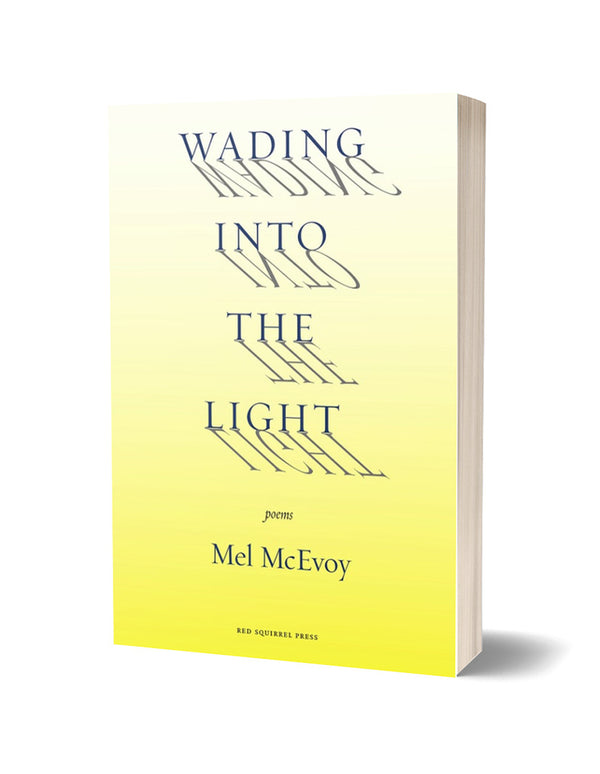 Many of these poems resonate with a sense of loss, not morbidly so, but almost as a contradiction where our emptiness can make us capable of compassion. The background music, or the place of origin for this work is always the narrative of emotion. The centrepiece of this collection is a sequence of poems called 'Sonnets of a Hospital Lift', telling the story of death and dying in a NHS hospital. We write to catch meaning, to shine light on this experience of being. This collection is rooted in nursing but its drive comes from a far deeper place and owes much to observing a mother overcome tragedy with a love of storytelling and a faith in being a part of something bigger than herself.

'This is a collection that brims with humanity. Written by a palliative care nurse consultant, the moments of human connection are palpable. From familial relationships to the transient uplift of art, these are poems that by turns will make you laugh and cry. All human life is here. There is yearning: 'Fifty years watching/for her clenched hand/to open', and there is deep understanding of the emotions of death and dying: 'A whisper of mist upon the lake and you waded out into the unthinkable.' This is a collection which helps us to face the unthinkable, feeling just a little bit stronger. This work fortifies the reader with its wit and empathy. It is, as one poem says 'Words made flesh/from the sudden flush/of another story.'

—Siobhan Campbell, Irish poet and critic

'Congratulations. This is a magnificent collection of poems, breathing humanity and compassion into the anonymity of hospital life (and death).I've read many poems about our work. Yours reaches into the core of who we are: humans, doing our best at the twilight of existence. I especially love the suite of sonnets from a hospital lift. Bravo, my friend. The [stanza] that made me cry (and it's doing it again as I type):
      You do realise before you retire
      there will be over thirty thousand patients
      occupying a space as large as Sunderland's
      football stadium, somewhere inside you.
I feel seen. I feel we are all this person.'

—Kath Mannix, retired palliative care consultant author of Sunday Times bestseller With the End in Mind
Red Squirrel Press
Join the Poetry Book Society for 25% off all books