Venus as a Bear by Vahni Capildeo
PBS Choice Summer 2018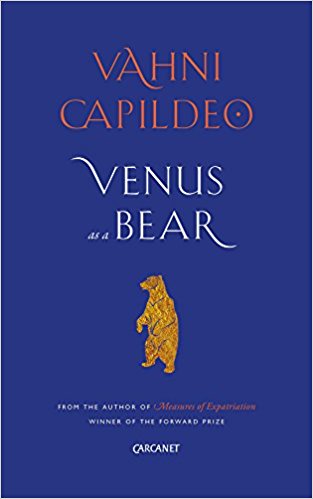 Vahni Capildeo's new book lives with things - carefully, lovingly: with glass, with moss, with stone. Venus as a Bear places the non-human world at its centre, tenderly disclosing the ways in which it is alive. We have feelings for familiar or strange creatures, objects, or places, but where do these affinities come from? For Capildeo the answers formed at their own pace, while waiting for lambing at a friend's farm, on a tour with poets around the Ashmolean Museum in Oxford, criss-crossing the British Isles with the `Out of Bounds' poetry project; or hearing of Africa and the Romans in Scotland, of Guyana and Shakespeare, while standing over-the-boots deep in a freezing sea off the coast of Wales. This book considers how things, as things, affect us, remaining mysterious while making themselves known. 

Many of the poems in Venus as a Bear are short. Some consider art objects of various types and periods: an Italian bronze sculpture of a dog -cum-wolf, a Persian painting of a bulbul. Some of the poems are set in the natural world and respond to real places, objects, and people, as investigations, meditations, or dedications. At root the poems, like the worlds they touch on, respect the actual in all its volatile mystery.
Join the Poetry Book Society for 25% off all books