Unspecified Spaces / Stafelloedd Amhenodol by Iestyn Tyne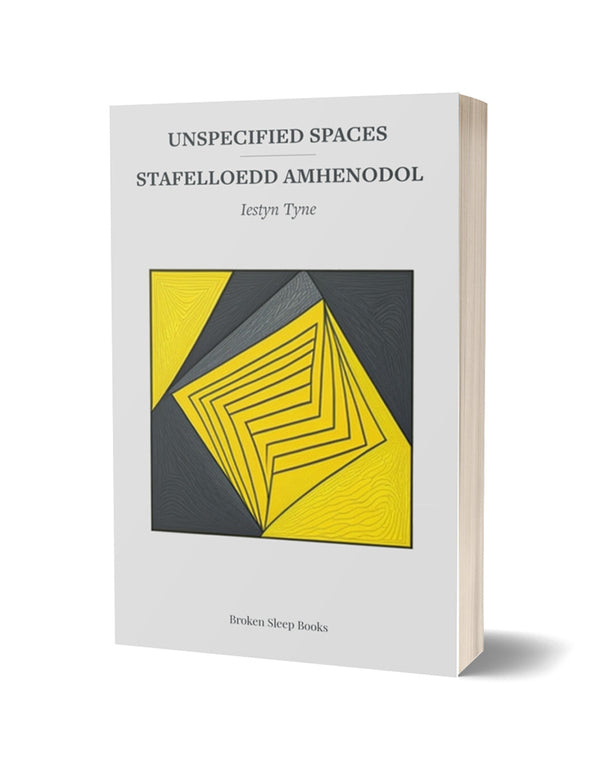 Unspecified Spaces, the third volume of poetry by Iestyn Tyne, is a collection of sonnets. They are poems that unsettle and excite; tender, angry reflections on the poets community, locality and world.
***
Casgliad o sonedau yw Stafelloedd Amhenodol, y drydedd gyfrol o farddoniaeth gan Iestyn Tyne. Mae'n nhw'n gerddi sy'n aflonyddu ac yn cyffroi, yn fyfyrdodau tyner, chwyrn ar gyflwr cymuned, cynefin a byd.
PRAISE for Unspecified Spaces:
Unspecified Spaces is a tender guide for those of us losing faith in the world. At first, I took Iestyn Tyne's collection for a study on fragility but as the poems unfold, a reassuring resilience surfaces, like a flower garden's promise to return with the spring. Tyne expertly weaves together a sense of helplessness and hope: breaking our hearts with image after image of the destruction of time while reminding us to continue acknowledging 'the miracle of awakening'.
   — Hanan Issa, My Body Can House Two Hearts
Iestyn Tyne's poems exude the same laconic power as their Welsh siblings, and he seems effortlessly at home with these supremely inventive translations. Ultimately, you will want to linger in all rooms to reflect on his curiosity and craft, leaving the door ajar behind you for others to enter.
   — Menna Elfyn, Tosturi
ABOUT Iestyn Tyne:
Iestyn Tyne is is a writer and musician from Pen Llŷn. He now lives and works in Caernarfon.
Stafelloedd Amhenodol was originally published in Cymraeg by Cyhoeddiadau'r Stamp, and was shortlisted for the Wales Book of the Year poetry category in 2022.
***
Mae Iestyn Tyne yn awdur a cherddor o Ben Llŷn. Mae bellach yn byw a gweithio yng Nghaernarfon.
Cyrhaeddodd Stafelloedd Amhenodol, a gyhoeddwyd yn wreiddiol gan Gyhoeddiadau'r Stamp, restr fer categori barddoniaeth Gwobrau Llyfr y Flwyddyn 2022.
Broken Sleep Books
Join the Poetry Book Society for 25% off all books