Truck Driver Haikus / Haikús del Camioner, trans. by Clyde Moneyhun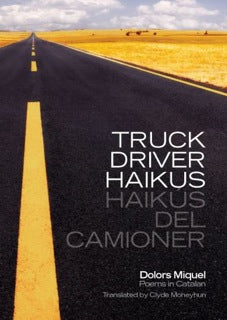 Bilingual Catalan/English edition.
"A haiku is so short that it gives you no time to reflect. It's just an impression. I don't want to talk about grand emotions in a world full of washing machines. No lyrical images. Only punches. "
Intrigued by the aesthetic and philosophical possibilities of the haiku, Dolors Miquel thought she might "introduce elements of our own daily life to the typically nature-centered themes" of the classic Japanese version.
Join the Poetry Book Society for 25% off all books