Tippoo Sultan's Incredible White-Man-Eating Tiger Toy-Machine!!! by Daljit Nagra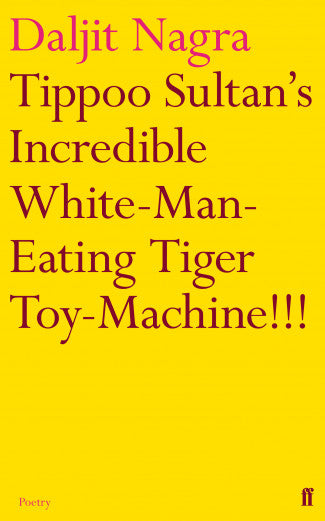 Look We Have Coming to Dover!
, the remarkable debut by Daljit Nagra, marked the arrival of a thrilling new voice in poetry and won the Forward Prize for Best First Collection along the way. In this, his second volume, his writing shows every bit the same verve and excitement that made his first book an unmissable event. 
Tippoo Sultan's Incredible White-Man-Eating Tiger Toy-Machine!!!
takes its cue from the eighteenth-century automaton (a tiger savaging a British soldier) in a series of poems that begin at the throat of the old British Empire. In these vivid, real and sometimes surreal pieces, Daljit Nagra creates his own inimitable linguistic bhaji: where Shakespeare meets the Subcontinent in a range of forms from English sonnets to spectacular displays of 'bollyverse' or the tender love songs of the monsoon. The poems take their bearings from cornershops and classrooms, the strange, part-arcadian, part-hellish streets of 'Londonstan' and the places where the north of England collides with the Punjab: from Larkin to the ladoos in Raja t'Wonder Dog. Little escapes Nagra's tigerish gaze: race relations, family feuds, cultural inheritance, religious bigotry, the British honours system, Rudyard Kipling, the blurring of Kevin Keegan with Kabbadi. Comic, hard-hitting, passionate, satirical, Daljit Nagra has written a book that is as powerfully thought-provoking as it is delightful.
Join the Poetry Book Society for 25% off all books