The Penguin Book of the Prose Poem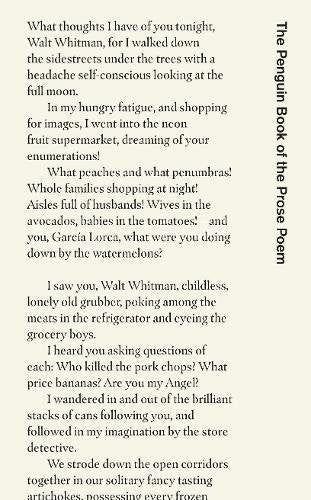 The prose poem has proven one of the most innovative and versatile poetic forms of recent years. In the century-and-a-half since Charles Baudelaire, Emma Lazarus, Oscar Wilde and Ivan Turgenev spread the notion of a new kind of poetry, this 'genre with an oxymoron for a name' has attracted and beguiled many of our most beloved writers. Yet it has long remained a hidden territory - and even now, this peculiarly rich and expansive form can strike many contemporary readers as something of a mystery.

Here, Jeremy Noel-Tod reconstructs the history of the prose poem for us by selecting the essential pieces of writing - by turns luminous, brooding, lamentatory and comic - which have defined and developed it at each stage, covering a greater chronological sweep and international range than any previous anthology of its kind. In The Penguin Book of the Prose Poem, Margaret Atwood rubs shoulders with Claudia Rankine; Lu Xun and Rabindranath Tagore take seats in the family tree above Seamus Heaney and Simon Armitage; and Czeslaw Milosz sits just pages from Eileen Myles.
Join the Poetry Book Society for 25% off all books