The Nation's Saddest Love Poems by Sam J. Grudgings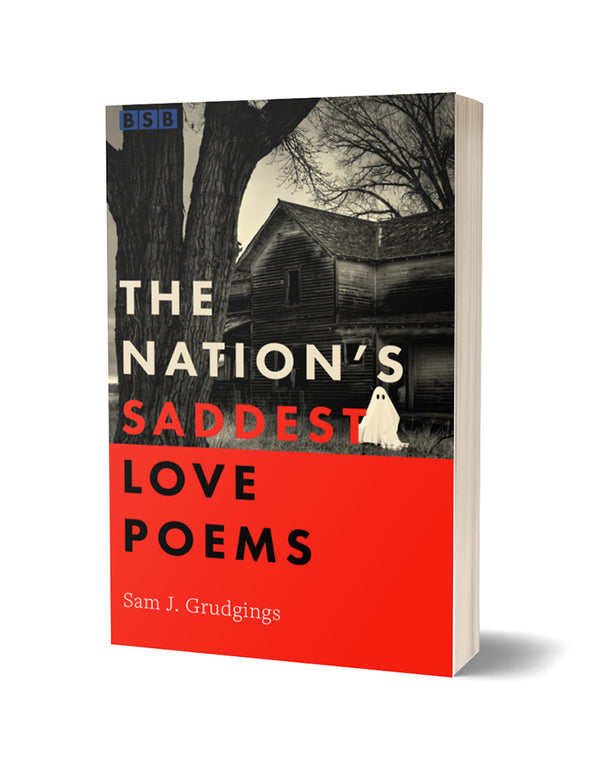 The Nation's Saddest Love Poems is a sequence of poems covering the unreality of grieving, alongside the notion that love is a far broader idea than the vague notion of romance often centred in poetry anthologies about love. In exploring these themes, Sam J. Grudgings sets out to reflect different healing processes with a focus on wounds, comas, and mental anguish through these beautifully written, evocative and wonderfully absurd poems.
PRAISE for The Nation's Saddest Love Poems:
Each poem in this collection by Sam J. Grudgings is a beautiful purpling bruise, a conversation with a vengeful lover who, without warning, pulls apart your ribcage to expose a cramping, melancholic heart. Sinking into and across the page, Grudgings words are a shovel jabbed into the musty earth, where the shells of every failed relationship and their tentacular attachments to our own sad bodies are frantically dug up. These are the poems I wish I could write; blistering, self-flagellating. However, I will have to rely on Sam, who has sacrificed his own grief, his own loss, so that somehow I can continue to exist in this absurd world. The Nation's Saddest Love Poems is here for us all to feed from, for us all to share, and in the process know that it is better to have loved and been torn apart than not at all.
   — Stuart McPherson, End Ceremonies
ABOUT Sam J. Grudgings:
Paranormal investigator & erotic doomsday prophet, Sam J. Grudgings (he/him) is a queer poet from Bristol shortlisted for the Outspoken Poetry Prize 2020. His work explores rehabilitation via the lens of body horror, the 1920's burlesque scene & the new weird movement. Commonly found yelling poems at punk shows, his debut collection The Bible II investigating addiction, loss and the masculine urge to fight or fuck god, is available from Verve Poetry Press.
Broken Sleep Books
Join the Poetry Book Society for 25% off all books