The Insect Horizon by Kevin Hanson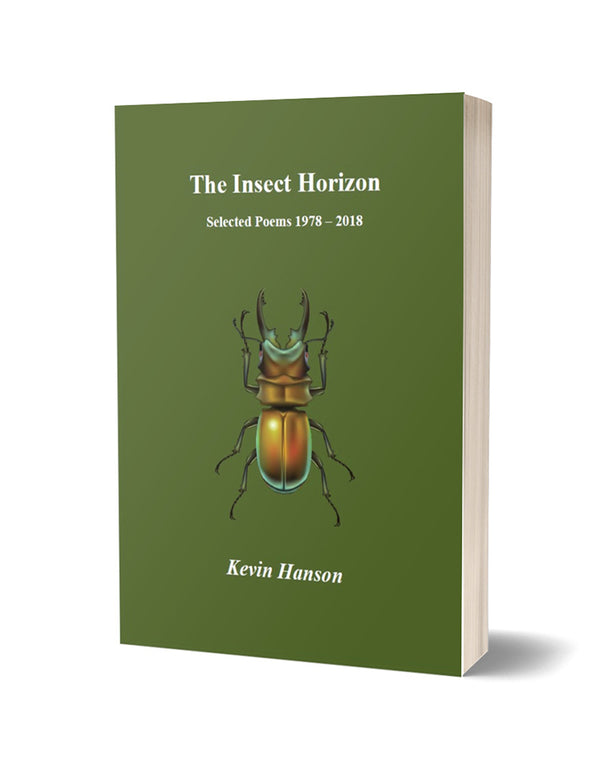 Kevin Hanson was born in 1948 at Catterick military hospital to an English father and an Irish mother. At fourteen, when the family moved to Tanzania, he and a sister remained in England for their education. Kevin joined the Junior Novitiate of the De La Salle Brothers. The four years he spent with them were happy and educative, but from the Church's perspective disappointing.
After a degree in English and American Studies at Hull University, Kevin worked in London for over thirty years. His aversion to callings or career structures produced a varied CV. In his late forties he swapped manual labour for sitting on chairs and undertook an MA on the Eighteenth-Century Novel with the OU.
In 2006, Kevin, now living in Sheffield, took up the writing of poetry intensively and gained  the confidence from regular appearances in magazines like Pennine Platform, Prole, The Cannon's Mouth and Sarasvati, to self-publish six collections. He sees The Insect Horizon as a welcome vote of confidence in his work.
In this very accessible book, Kevin Hanson has gathered together a substantial body of work from over several decades, all characterised by a stoic-ironic take on life's depredations. Though he avers atheism, and his touch is often light, his poems have a moral undertone, a deep seriousness which is strengthened in its effects by his wide range of knowledge and reference. The reader will recognise a mind and sensibility working at coping with personal problems and constructing positive approaches to the natural and social injustices of life. Some of the most moving poems are about love in age and increasing decrepitude. They are among the truest and most moving love poems I know. Each poem, though seeming to occur with great naturalness, is clearly structured and the phrasing often delights with its precision and resonances. There is art as well as feeling in this work, making it rewarding to read and re-read.   –  Nicholas Bielby
Graft Poetry
Join the Poetry Book Society for 25% off all books