The Hopeful Hat by Carole Satyamurti
PBS RECOMMENDATION SPRING 2023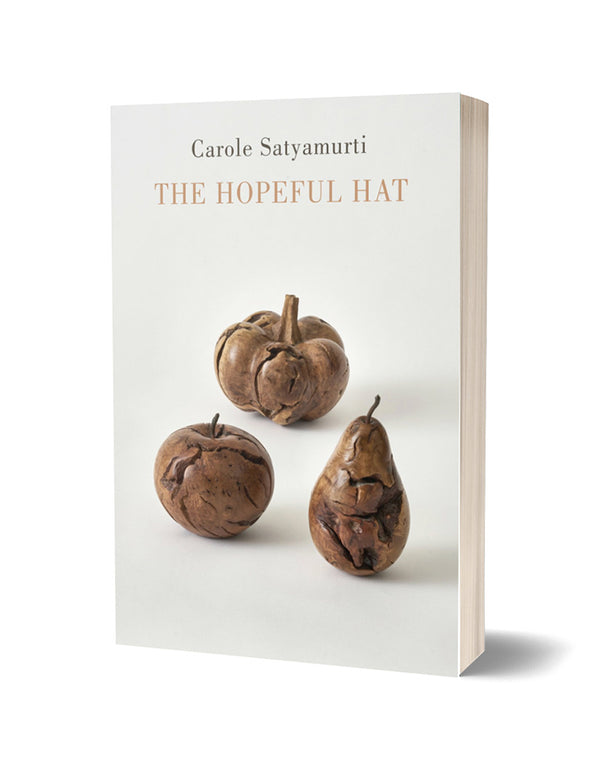 Let this be my last word on the subject.
The wasps sting and stab
but, ignoring them, I speak.

      'Necklace of Wasps'
 
The Hopeful Hat is Carole Satyamurti's last collection. She was preparing these poems for publication at the time of her death, and left the manuscript in an advanced state of readiness. The sequencing of the poems, and the sections they are grouped in, had already been decided by her.
These late poems are informed by Satyamurti's keen eye for social injustice and, equally, by the breadth of her compassion. Poignantly, they are also her nuanced poetic response to having her voice box removed following a diagnosis of laryngeal cancer. The poems' formal accomplishment is carried lightly; characteristically, it is this light touch that enables Satyamurti to move so deeply. Clear-eyed in the face of her own mortality, she produced a series of courageous poems that are, as Carol Ann Duffy said of her work, 'laced with the hard stuff'. They are also graced with Satyamurti's unique and subtle wit.
The preface by the poet's daughter, Emma Satyamurti, places this collection in the larger context of four decades of published work, and provides an illuminating insight into the poems gathered together here.
Satyamurti's 'last word on the subject' is as eloquent as it is succinct:
 
            A broken bowl becoming
a charged fragment in your hand

invites you to consider now, and now,
the quiddity of all that is.

      'How to Wash Dishes on the Eightfold Path'
'No matter how compelling her themes, with their demands of compassion and political conscience, Satyamurti never loses hold of her main topic: the capacity of language.' – Bernard O'Donoghue, Poetry London.
'Carole Satyamurti's poems look to be stations on a road map of psychological discoveries, sometimes personal, sometimes objective and scientific. Her best poems are not so much confessions as meditations.' – Anne Stevenson, London Magazine.
'Her unobtrusive approach is deceptive – these poems have unexpected stings in their tails.' – Penelope Shuttle
Join the Poetry Book Society for 25% off all books