The Hill by Angela France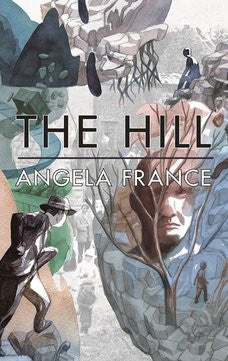 Angela France's The Hill is a remarkable sequence of poems that leads us up the winding footpaths of Leckhampton Hill near Cheltenham. Under our feet are fossils and flora, bones and the relics of quarrying. France is masterful in capturing the sense of place and weaving the entrancing voices of the hill, its walkers and inhabitants, into the fabric of these formally adventurous poems that range from prose to 'anglish', richly worded and delighting in their shapes and sounds.
Here, we encounter ghosts, foxes and ancient kings. We meet the protestors who, years before the Kinder Scout Trespassers, were standing up for their rambling rights and took the law into their own hands in 1902 when a landowner tried to enclose the hill they had walked for generations. And though history is never far from the surface, The Hill raises questions that are just as important today; who has the right to roam, whose land is it, anyway?
"In Angela France's multiply-layered word-geology of sited memory and belonging, the things of a hill long to still be, to persist. They speak waller and badger. Stone is agent there, its time-strata shimmy and the mine cable cracks, echoing like broken lineage and denial of rights. The path is cut, but re-opened by the rise of feet. In the here and then of 'The Hill', in its fissures, are accidents and conflicts over what "land" means: about where a foot can be placed or a line drawn. Then it all swings around a poem rising up on hawk wing. This may be a soft telling where harsh workings are overgrown, where a shadow "might be a huddle of women or a bramble", but, with a sharp turn of phrase, it can slice your nose, whip a Squire, burn you with the steepness of the morning after or put its long stem-like feet right in the centre of your chest; these are words that make you ache for the place." - Phil Smith, author of Mythogeography and On Walking
  "The Hill is a place some people own through memories, childhood, intimate knowledge, and others through title deeds. It is a place from which you can be exiled by change and politics, made a trespasser on your own past. Everyone knows somewhere like the Hill, though few could memorialise it with such verbal energy. Exuberant, controlled, angry, elegiac, this is a poetry of landscape, politics, witness." - Sheenagh Pugh


Join the Poetry Book Society for 25% off all books