The Goldsmith's Apprentice by Keith Chandler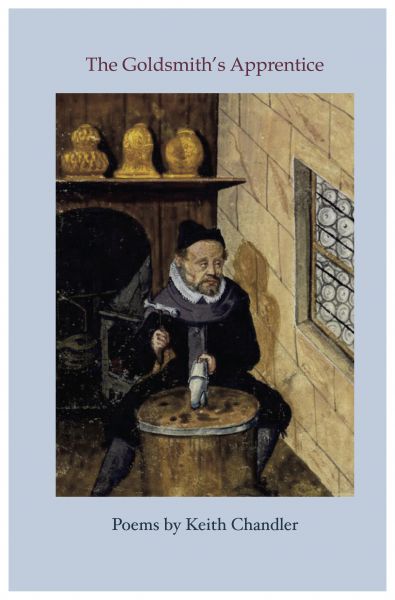 Born in Nigeria, educated at Christ's Hospital and New College, Oxford, Keith Chandler worked as a schoolteacher in Liverpool, London and Norfolk. Since being selected for Ten English Poets (Carcanet) in 1978, his poetry has been published in four collections: Kett's Rebellion (Carcanet), Passing Trade (O.H.P.), A Different Kind of Smoke (Redbeck) and The English Civil War Part 2 (Peterloo).
"The Goldsmith's Apprentice opens with a wonderful sequence of poems about work. From glassworkers to glass eye fitters, these poems understand the routines and insanities of what people do to earn a crust, revealing with great empathy the impact of industry on lives. This wide-ranging collection moves outwards from there to a broad scope of subjects, from ties to lost campervans, from an old man at the gym to a moving final sequence about a grandchild. Now humorous, now powerful, crammed with good ideas and great endings, these are accessible poems which are deeply engaged with both the ephemera and the big issues of ordinary lives.
More than anything, I value them for their great humanity, their understanding of the power of poetry to celebrate the importance of lives lost to history, tough work or a duff education system. To appropriate the ending of a wonderfully moving poem about a nurse, these poems, coming as they do out of the best motivations and the deepest artistic rigour, are The Real Thing."
-Jonathan Edwards, Winner of the Costa Award for Poetry
Join the Poetry Book Society for 25% off all books