The Gaelic Garden of the Dead by MacGillivray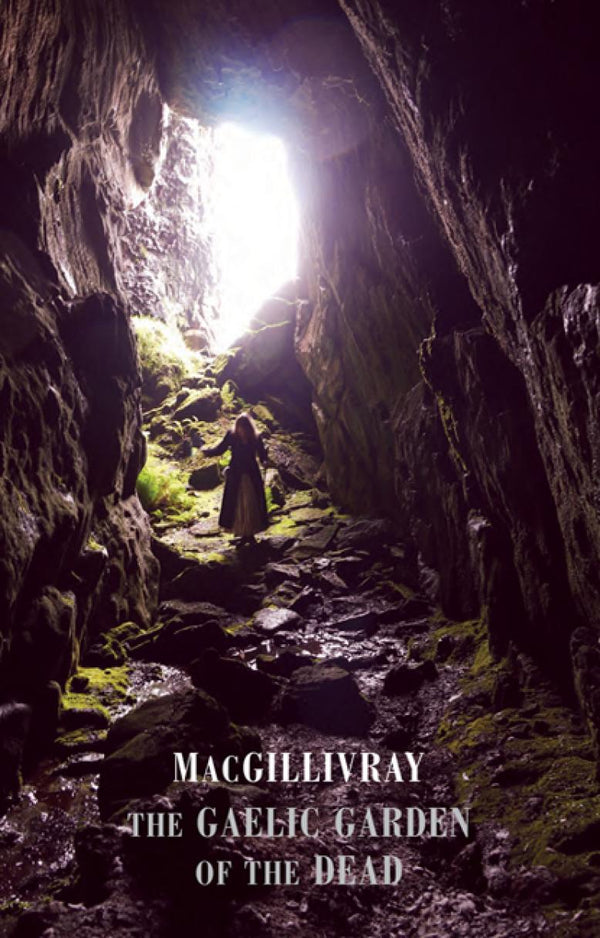 The Gaelic Garden of the Dead is three Books of the Dead bound as one. This trilogy comprises an alphabet of trees spoken as witness to a Highland hanging, ten pattern poetry dream diagrams and thirty-five death sonnets deconstructed to Mary Queen of Scots.
Saturated with the languages of arboreal myth, magic and folklore in Gaelic culture, the first book, The Gaelic Garden of the Dead is a forest quartet whose letters enunciate in the imagery of their own form and function, drawing on the traditional Scots-Irish Gaelic alphabet of trees. Among reflex-men and co-walkers are the corpse measuring woods of the aspen, the hanging tree of the pine and the poison death yew. As a meta-narrative for ecological preservation of trees and a comment on ancient language culture, the gaelic garden of the dead is a grove of observation: 'Love's eyes are colourless: a motive for moving through underworlds.'
A Crisis of Dream, the middle book, is a sequence of ten dream diagrams in an exploration of thematic maps, dream languages and the pattern poem. Excavating technical poetic terminology such as 'the lyric' as indicative of the lyre, 'the couplet' a troubadourian coupling of lovers and the knife fight rhythms of iambic pentameter, a crisis of dream evolved in counterpoint to Basil Bunting's striking argument for the predominance of rhythm, instead asserting the glimpse and the witnessing of the stanza as a mysterious pause. Many of the dreams delineated in the second book informed the other parts of the trilogy itself.
In the End Is My Beginning: 35 Destroyed Sonnets to Mary Queen of Scots is the third book, consisting of 35 Petrarchan sonnets for each of the steps Marie Stuart walked to execution. Thematically composed on the anniversary of her death at Fotheringhay, the sonnets were then chewed for the 15 minutes her lips were said to move after decapitation. Their delicate reconstruction in the final part of book three becomes a moving, sensical and non-sensical meditation on Mary's demise: 'Once, my heart had a skeleton.'
MacGillivray is the Highland name of writer and artist Kirsten Norrie. She has published two other poetry books, The Last Wolf of Scotland (Pighog/Red Hen, 2013) and The Nine of Diamonds: Surroial Mordantless (Bloodaxe Books, 2016).
'MacGillivray's poems come at us with one language wearing the pelt of another, and in the affray that follows it is hard to tell whether dead or living mouth carries the fiercer bite. Blood-boltered, thrawn and unco, her work is a Samhain of unexorcised historical memory, ventriloquised with the 'cognition of bone'. Here the blasted landscapes of the pre-forgotten present give way to the richer patternings of the tree alphabet, all under the sovereignty of our highland Orpheus, the executed Mary Queen of Scots. Not since Sorley MacLean hymned the woods of Raasay have the ghosts of the Gaelic past bestrode the present more imperiously.' – David Wheatley
Join the Poetry Book Society for 25% off all books