The Fireman's Daughter by Jonathan Kinsman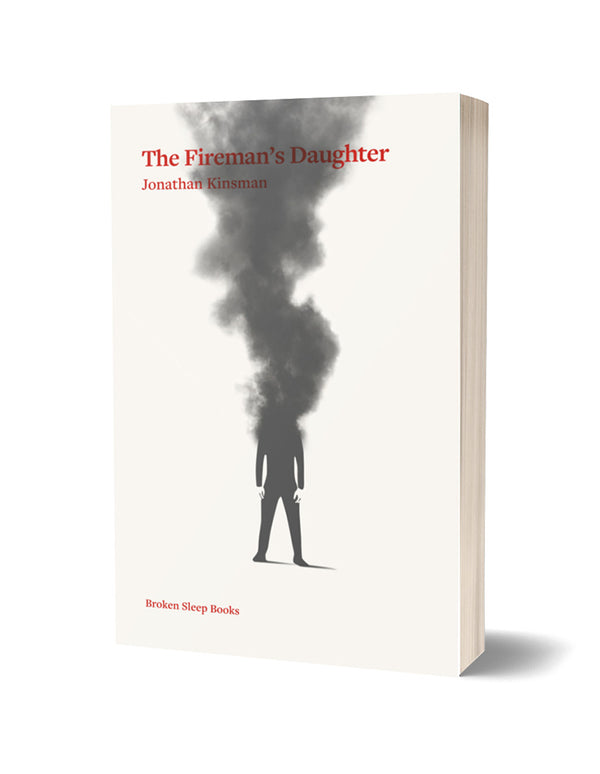 In The Fireman's Daughter Jonathan Kinsman uses his theological background to present a bruised, searing, and occasionally claustrophobic examination of the human condition. Kinsman's poems are gripping, restless, and feel like there is always something at stake. Comfortable in myriad forms, terminally horny, with admirable self-confidence and bravado Kinsman is a poet "frightened of who we are in winter...frightened of what we will burn".
PRAISE for The Fireman's Daughter:
These are poems which act as a two way mirror- peering deep into the scripture of the self and reflecting the holy book of the body back out into the chaotic, beautiful world.
   — Andrew McMillan, 100 Queer Poems
Jonathan Kinsman's The Fireman's Daughter has the bombast of a Jim Steinman song (referenced in one poem), and the collection's style can be summed up by the poem title 'this is gonzo dream pornography, not forty winks erotica'. This poetry is sardonic, frank, and revelling in a queer sensibility antithetical to anything vanilla. It also offers a feast of well-observed, convincing poems, using form adeptly (the prose poem, slashes, the long line etc.) and exploring stirring themes. I find myself moved by Kinsman's account of struggles with the body in poems like 'my mother is buying me a bra'. Kinsman interrogates masculinity, ranging from an exploration of pop culture in 'death of a boyband' to an apology for men's violations of others in 'overture con sordina'. The body is grotesquely vulnerable too in poems like 'gravedigger' or when beachcombing for body parts in 'how to walk on water', and yet there is also so much joy and laughter in these poems. What daring, what vividness, and what surprise is found in Kinsman's brilliant new collection.
   — Zoë Brigley, Hand & Skull
ABOUT Jonathan Kinsman:
Jonathan Kinsman (he/him) is a bisexual, polyamorous, trans writer who was born in greater manchester in 1993. raised church of england and with a background in theological study he lives his life marrying his spirituality and his sexuality. he is a slam champion and received a distinction for his ma in creative writing at the university of sheffield. find him online @manykinsmen.
Broken Sleep Books
Join the Poetry Book Society for 25% off all books