The Ferguson Report: An Erasure by Nicole Sealey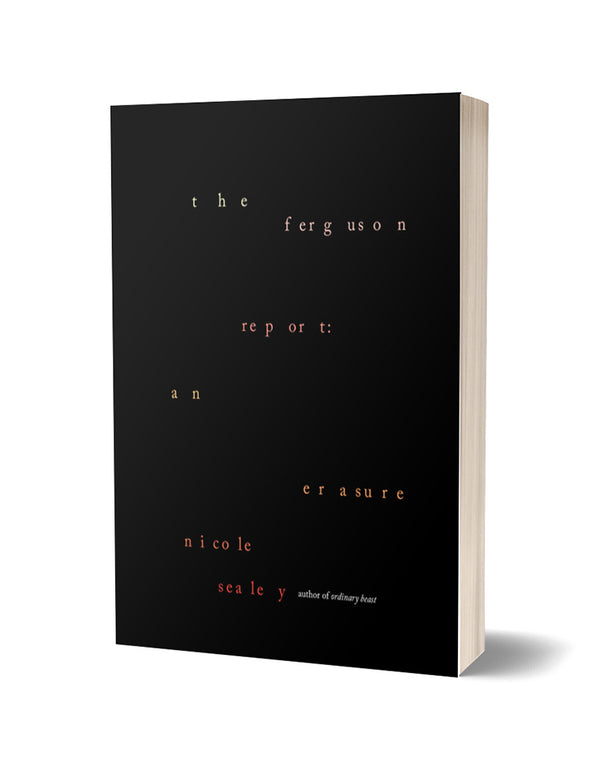 In August 2014, Michael Brown - a young, unarmed black man - was shot to death by a police officer in Ferguson, Missouri. What followed was a period of protests and turmoil, culminating in an extensive report that was filed by the Department of Justice detailing biased policing and court practices in the city. It is a document that exposes the racist policies and practices that have become commonplace - from disproportionate arrest rates, to flagrant violence directed at the Black community.

It is a report that remains as disheartening as it is damning. Now, acclaimed poet Nicole Sealey revisits the investigation in a book that redacts the report, an act of erasure that reimagines the original text as it strips it away. While the full document is visible in the background - weighing heavily on the language Sealey has preserved - it gives shape and disturbing context to what remains.

Illuminating what it means to live in this frightening age, and what it means to bear witness, the ferguson report: an erasure is an engrossing meditation on one of the most revealing texts of modern times. Nicole Sealey won the Forward Prize for Best Single Poem in 2021 with an excerpt from the ferguson report: an erasure, earning the judges' praise for creating 'new moments of lyrical beauty and contemplation' out of 'stifling obfuscations' to shine 'a light on all that the report tries to hide', with Shivanee Ramlochan calling it 'a poem of resonant cultural and social value'. the ferguson report: an erasure is published simultaneously by Knopf in the US and Bloodaxe Books in the UK.

Nicole Sealey's first collection, ordinary beast (2017), is published in the UK by Bloodaxe at the same time.
Bloodaxe Books
Join the Poetry Book Society for 25% off all books