The English River by Virginia Astley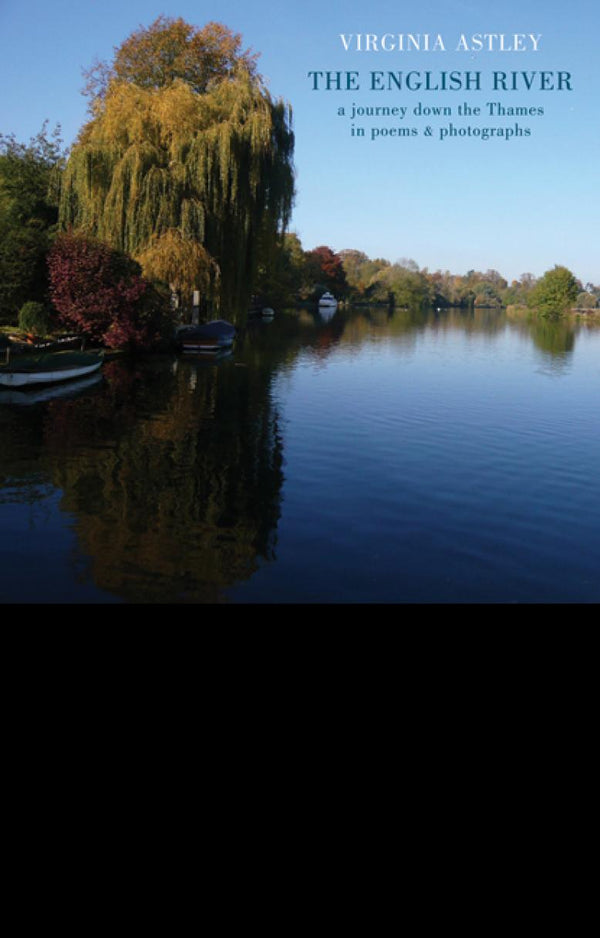 Virginia Astley has been a much admired songwriter and musician since the 1980s, known for her engaging lyrics as well as for her melodious style. Now her other two passions take centre stage in this book: poetry and the River Thames. She grew up by the river's upper reaches, knew the old lock-keepers and was familiar with all aspects of the Thames and its hinterland: both the natural world and the people whose lives are intimately connected with the river. In recent years, she has returned to the Thames, working for a summer as an assistant lock-keeper, and walking its length to record and respond to its landscapes, river life and river folk as a poet and photographer.
Her pamphlet The Curative Harp won Ireland's Fool for Poetry chapbook competition in 2015 and was published by Southword. The English River is her first book-length poetry collection, showing many new sides to this multi-talented artist: as poet, nature writer, storyteller and photographer.
'Like the bends of a river, each one of Virginia Astley's austere, cleanly-made poems offers some particular pleasure: a delicate reflection, an original piece of seeing - but the true impact of this book is felt when the sequence is read in order because this book does not just record the passage of a river but the passage of a life lived honestly and fully. The emotional forces gather steadily, and the final effect is powerful as a tide.' – Kate Clanchy  
'Virginia's story is about the river and the people who work on it, especially those who man the locks. She captures a view of the upper reaches of the River Thames that is entirely fresh. There are glimpsed moments of the claustrophobic beauty of the wooded parts that contrast with the open expanses of uplifting countryside where the river meanders through woodland and farmland. Focussing on the professionals who work on the river, and who manage the locks and the flood plains around them, Virginia suggests – as she works as a lock-keeper's assistant – that they become almost addicted to the peace and beauty of their place of work. She herself becomes enchanted, that is certain. She makes herself vulnerable in the most romantic way, working and writing and evoking everything she sees and feels as both a storyteller and poet, and as photographer.' – Pete Townshend, musician
'Virginia Astley's collection in celebration of the Thames is a wonderfully attentive and full-hearted response to both the river and the landscapes it winds through. She is most obviously (in this collection at least) a nature poet, but there are love poems here and poems detailing the lives of those who live on and by the water. Each poem can stand alone, can be read in or out of sequence, but the work's true force comes from what they share – the patient returning to the water, its moods, its history (the history of its uses), its onwardness, which is the flow and energy of a journey and a story. I thought of Alice Oswald's poems about the Dart and the Severn. Virginia Astley's book is doing something different - more personal, less theatrical - but in its way it is equally powerful.' – Andrew Miller, novelist
Join the Poetry Book Society for 25% off all books