The Damned: Selected Poems of George Trakl, trans. Daniele Pantano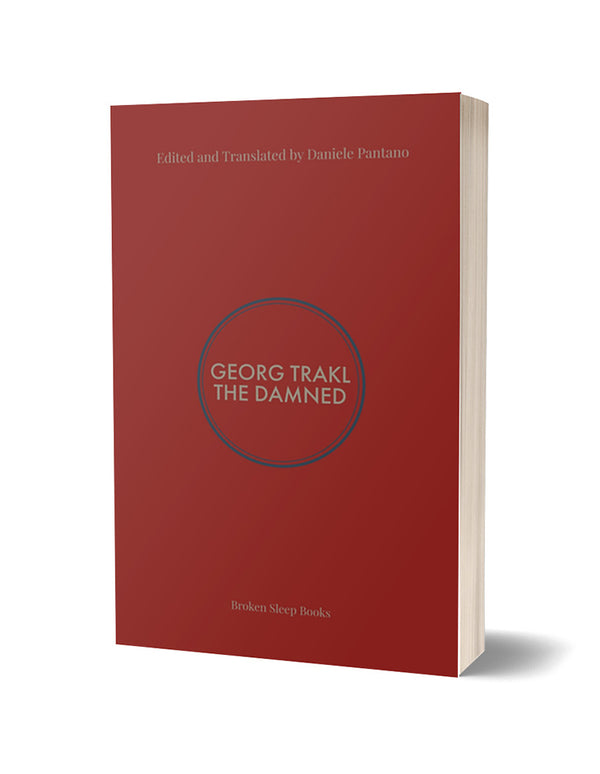 Georg Trakl (1887–1914) is commonly seen as one of the leading figures of the Austro-German expressionist movement in literature during the early part of the twentieth century. Marked by the perpetual use of nightmarish visions of disintegration, death, murder, and natural decay, his poems bear haunting witness to a world devoid of faith, meaning, and hope. Nevertheless, Trakl still captures glimpses of beauty in this wasteland, a beauty he usually equates with erotic or familial relationships, a beauty that in his view can only be seen in contrast with death and horror.
PRAISE for Georg Trakl:
It's the tone of a true genius.
   — Ludwig Wittgenstein
For me the Trakl poem is an object of sublime existence.
   — Rainer Maria Rilke
The lofty stance, the cosmic range, and the haunting music of Trakl's poetry now mark him, with Rilke, as perhaps the last great representative of what could be called the sublime tradition in German.
   — Herbert Lindenberger
PRAISE for Daniele Pantano:
In Daniele Pantano we have found an heir to Czeslaw Milosz.
— John Domini, twice nominated for the Pulitzer Prize for Fiction
Daniele Pantano is one of the most interesting and versatile English-language poets of his generation.
— Neue Zürcher Zeitung
Now that's real poetry alright.
— Franz Wright, 2004 Pulitzer Prize for Poetry
Daniele Pantano is one of Europe's most exciting poets.
— Southbank Centre 
ABOUT Georg Trakl:
Georg Trakl (1887–1914) is commonly seen as the most prominent figure of Austro-German literary Expressionism.
ABOUT Daniele Pantano:
Daniele Pantano has published over twenty volumes of poetry, essays, and translations, and his work has been translated into a dozen languages.
Broken Sleep Books
Join the Poetry Book Society for 25% off all books