The Commerce Between Tongues by Adrija Ghosh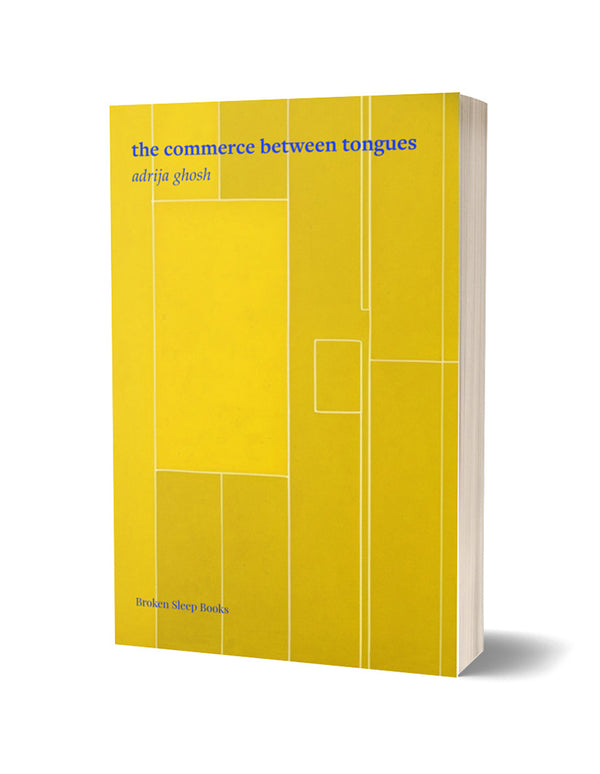 the commerce between tongues explores adrija ghosh's multilingualism, which bears the collection's exploration of loneliness, grief, trauma, desire, and their impact upon one's sense of self. This collection explores the idea of mobility and how the self transports itself via memory and finds itself in constant motion, blurring its own spatio-temporal existence. This stunning collection showcases a lyric 'i' that travels between Scotland, London, Norwich, Delhi, and Kolkata.
PRAISE for the commerce between tongues:
adrija ghosh's debut is a beautiful 'ghost narrative' to a life in transit where she weaves us into an exile. We travel with her unrooted, yet at home everywhere seeing a world's true strangeness. Here she links the familiarities between Kolkata, Delhi, Edinburgh, Glasgow and London in her cinema of jump cuts, Darjeeling one moment sipping tea and next into a bedroom in Glasgow. ghosh writes through the rhythms of Bengali poetry and into a post-modernist pan-global decolonised landscape. Here we confront love and grief through ancient scripts, we let her challenge our ideas of ancient and modernised. She fiercely unlocks scripts with new logic inside the ancient. In her tongue's music she gives us 'wind-eyes,' and 'breath doors' where poetry 'chokes on the word-breath', and she too is breath-taking. This is her poetry of love, where 'cities are lovers too', let us go with her and meet up with 'frieda khalo dressed in a saree'.
   — Jessica Mookherjee, Desire Lines
ABOUT adrija ghosh:
adrija ghosh is a polyglot poet, translator, and filmmaker who talks a lot about love and a lot about loneliness. she travels the world along with her political, flaneur lyric-'i'. you might bump into her in an airport, an art gallery, or a bookshop. otherwise, you can find her on twitter and instagram at @byadrija.
Broken Sleep Books
Join the Poetry Book Society for 25% off all books