The Book of Tides by Angela Readman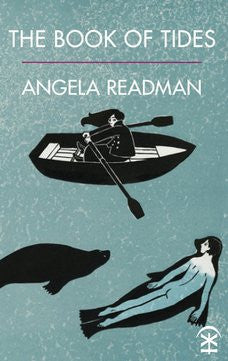 Angela Readman's The Book of Tides is treasure trove of luscious, visceral poems that are delightfully risky, utterly thrilling and always close to the bone. Readman's poetry teems with the rare and beautiful, the dark seaweed sparkle of a particular strand of skewed folklore; here we encounter fishermen and mermaids, a man with a beard of bees, a Tattooist's daughter, Joan of Arc, and Beatrix Potter's bed – a rich swell of voices with an irresistible and peculiar power.

Salt-speckled and sea tinged, these poems possess a distinctive eye for disconcerting and uncanny details – from notes in bottles and knotted handkerchiefs, to sequin fish-scales and drowned rats. To read Readman's poetry is to be simultaneously unsettled and enraptured, and to encounter witchcraft, murder, love and loss. As The Book of Tides unfolds, will you dare to put your ear to its seashell and tune into its siren song, cast yourself adrift on a its strange and alluring current?
Published by Nine Arches Press on 14.11.2016
Join the Poetry Book Society for 25% off all books