The Birds, The Rabbits, The Trees by Briony Collins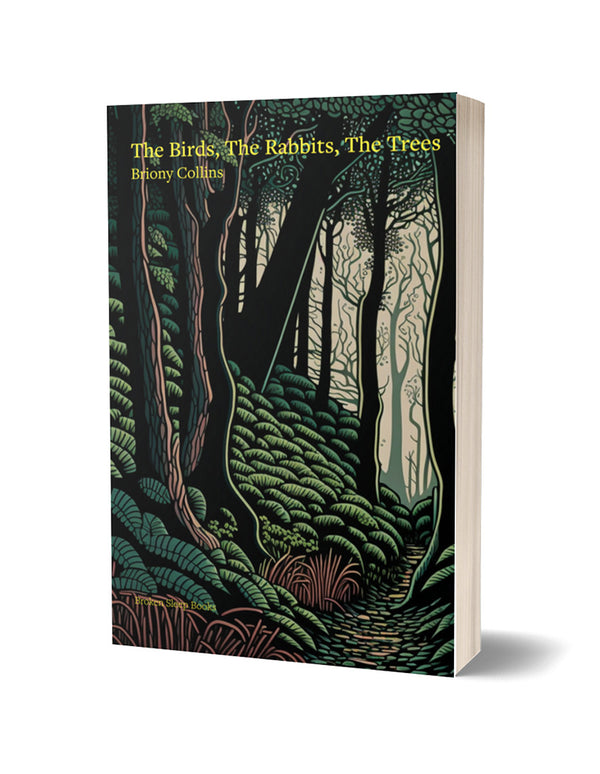 In The Birds, The Rabbits, The Trees, Briony Collins deconstructs a year of grief and an abusive relationship through her evocative poetry. Pink daisy chains and letters to mum clash with broken thumbs and Bundy black eyes as Collins expertly weaves between the light and dark of a life of loss. Her cutting yet delicate language leads the reader on a journey through pain to empowerment.
PRAISE for The Birds, The Rabbits, The Trees:
This is a collection of poetry simultaneously raging in its vitriol and heart breaking in its grief. Collins writes with an unapologetic intensity, exploring themes of violence, mourning, loneliness, and in doing so reclaims pieces of a self once shattered. Within these beautifully crafted sequences, the author holds up a mirror to the cruelty of the world and forces it to look at itself, rising up, not only to survive, but to become. Don't be fooled by its title, this book is not gentle. It is an opening up of things too often kept inside, holding deep within its heart a blistering truth that does not fail in its stirring of the soul.
   — Stuart McPherson, Obligate Carnivore
In this tensile and delicately stranded poetry of survival, Briony Collins follows a precipitous trail through the undergrowth of loss and trauma. The forest is a tangle of bones, echoes and rainy absence, but even as it pulls us back to old wounds, it offers a rich terrain of imaginative possibility, of strength and recovery. White scuts of rabbits disappear into the shadows, and if mouths fill with earth, they also fill with a language that's alive with rustling beeches, glow worms, and the bright threads that stitch the dead to the living.
   — Zoë Skoulding, Footnotes to Water
There's something of the freedom of Collins' poetry idol, Jim Morrison, in the unpunctuated, free verse of the poems, reminding me distantly of the Lizard King's The Lords and the New Creatures and 'Celebration of the Lizard', beatnik, cult writing at its best. The woods and the rabbits recur through the poems – a dreaminess that acts as a form of enchantment, making this a collection of many contrasts and talking points. This is an outstanding book that deserves a wide readership.
   — Matthew M. C. Smith, The Keeper of Aeons
ABOUT the author:
Briony Collins is an award-winning writer from North Wales. She manages her time between running Cape Magazine and working on her PhD at Bangor University, where she also lectures. Her book, cactus land, is forthcoming in 2023 with Atomic Bohemian: her next publishing venture. Currently, Briony resides with her fiancé – Tom – and their mischievous guinea pigs. www.brionycollins.co.uk
Broken Sleep Books
Join the Poetry Book Society for 25% off all books