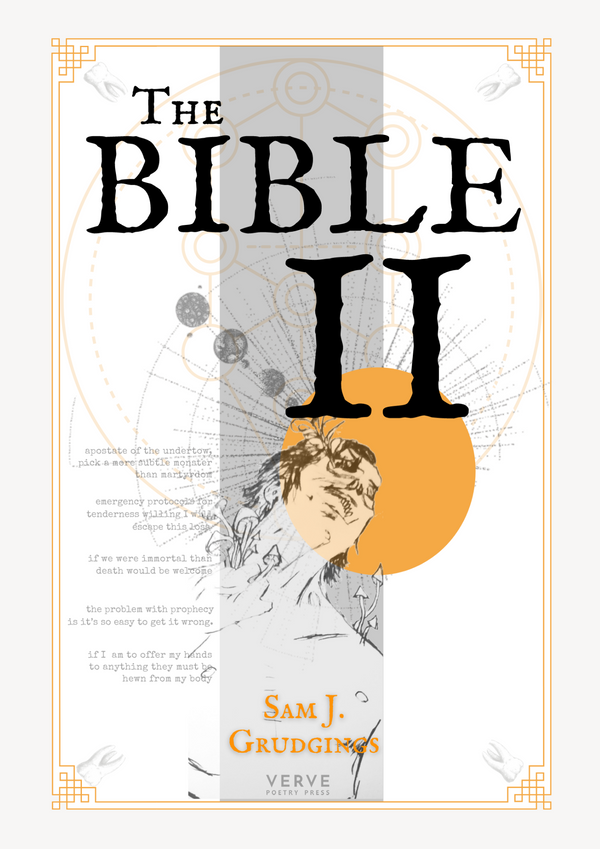 A defiant splatterpunk body horror on the Inneracy of theological doctrine, in the context of recovery, addiction, death & grieving. A kind of reverent aching. A glorious descent into havok & profanity.
Exploring what god is to an addict, The Bible II is a gory, surreal How-Not-To-Guide for alcoholics coming to terms with their own saviour complex in absence of traditional methods of recovery. Saints, Apostles, Whales & all things Holy are warped, re-examined, chewed & appropriated into something more fitting for the modern climate. Pianos erupt through bodies & through half remembered or halfway forgotten conversations; people become buildings & their dereliction; everyone is scarred & replete with teeth but everyone is worthy of Redemption it just depends how. Mixing violent, aching prose with experimental forms, the grotesque & sublime play off each other in tangible ways that makes the apocalypse both personal & revelatory.
Owing as much to Giallo films as it does to Hardcore Punk Bands like Orchid & Circle Takes The Square as well as the wildness of poets like Fran Lock, Daniel Borzutzky & Joelle Taylor this unsettling mediation grows to a crescendo of hope, if you've the temerity to reach out & grab it. Exploring how culpability is dealt with in regards to making amends to the ghosts of past lives, whilst living through a mass extinction event of our own making. despite the gallows humour & frank brutality moments of tenderness shine in amongst the maelstrom of words that translates Sam's frenetic explosive performance style to the page. The poems bleed into each other reframing narratives held up as gospel with the context of perspective as each page turns creating new understanding. The world is ending but if you need something a little more holy to guide your soul wherever you think you are heading this might be it.
Join the Poetry Book Society for 25% off all books