Stone Fruit by Rebecca Perry
PBS Recommendation Summer 2021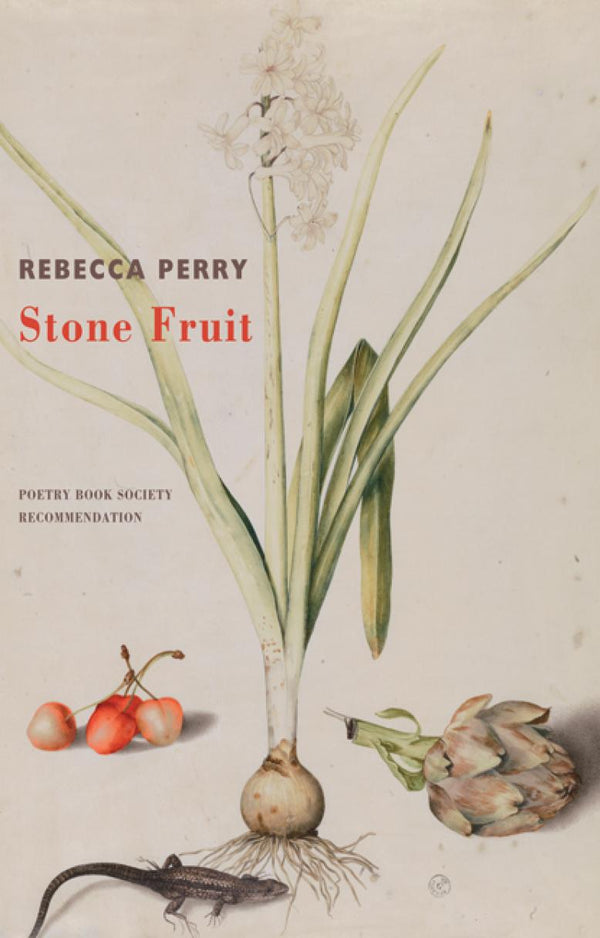 PBS Recommendation Spring 2021
A collection of three distinct parts, the poems in Rebecca Perry's Stone Fruit nonetheless speak across their many common preoccupations: memory, grief, the fallibility of the physical form, our connection to and place in the world, natural and otherwise.
 
Opening with a study of a girl in a miniature portrait, expanding into lyrical prose pieces and closing with a reflective long poem – part elegy and part reflective essay on competitive trampolining – the poems are united by a desire to pay absolute attention to both the material and inner world. The worlds within this collection appear to be teeming with life – crabs push through sand, wasps swarm on meat; and forms change – bones are replaced with metal, a human head transfigures into that of a muntjac – but there is nothing frantic in this shifting. The care taken in the poems to properly look, to focus on stillness and acts of interrogation, often gives the feeling that they are being viewed through glass, or placed in a frame.
 
If this book could be said to have a central demand of the reader, it is to consider whether they will allow themselves to attend to the pain and joy of giving due reflection to what is happening in the world around us, in their lives and the lives of others. And what the cost of that is.
Stone Fruit is Rebecca Perry's second collection, and is a Poetry Book Society Recommendtion. Her first collection Beauty/Beauty won the Michael Murphy Memorial Prize 2017. It was also shortlisted for the T.S. Eliot Prize, Fenton Aldeburgh First Collection Prize and Seamus Heaney Centre for Poetry Prize:
'We were impressed by the book's refreshing ambition and sophistication, its liveliness and bounce, and how rewarding the poems were as we read and re-read them.' - Judges Professor Deryn Rees-Jones, Professor Karen Leeder and John McAuliffe, The 2017 Michael Murphy Memorial Poetry Prize
Join the Poetry Book Society for 25% off all books