Stick, Hook, and a Pile of Yarn by Mervyn Seivwright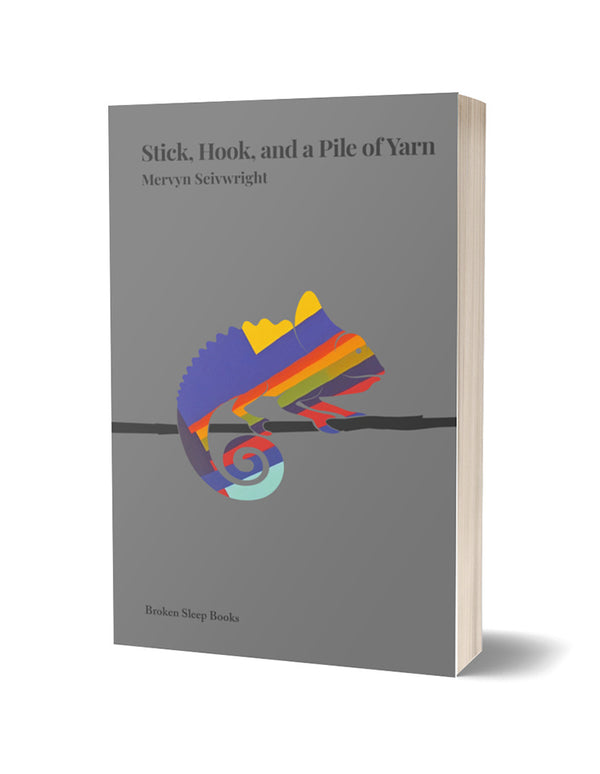 Stick, Hook, and a Pile of Yarn is a collection of poems centred around a coming-of-age nomad-story that was conceived and weaved into place far from the speaker's family and the world he has previously known.  Mervyn Seivwright shares his seasons of growth into adolescence navigating his new country and blended family from England to America in the 1980s, deftly presenting a tapestry of poems and scenes into a single narrative, and a rich journey.
PRAISE for Stick, Hook, and a Pile of Yarn:
In Stick, Hook, and a Pile of Yarn, Mervyn Seivwright takes readers on a profound journey through his first encounters with America, crafting a poetry collection that is both captivating and thought-provoking. Seivwright's powerful verses vividly depict his experiences as a Black boy and man in the heart of the Midwest, offering a poignant exploration of identity, cultural assimilation, and the complexities of family dynamics. Seivwright skillfully intertwines his personal narrative with broader cultural references, from John Wayne westerns to Scarface movies. Seivwright references American icons like John Wayne and Scarface, highlighting the ongoing fascination the West has with violence and power. Seeing the West through the eyes of young Seivwright, punctuates just how complicated American culture is and how potentially violent it is, especially when seen through the eyes of a young child witnessing it for the first time. Seivwright's introspective musings also delve into the struggles of growing up with a temperamental stepfather and the struggle it was to find one's place in a blended family. His heartfelt reflections on wearing plain jeans and t-shirts while others don stylish Filas, Chuck Taylors, and Shell Top Adidas offer poignant insights into the weight of social expectations. Amid it all, Seivwright's poetic prowess shines as he describes crafting "poetic love notes" for girls and wrestling with the intricacies of love and self-discovery. Yet, within these pages lies a resounding message of resilience and hope— ending with a father's earnest plea to his son not to succumb to anger in the face of injustice, but instead to persevere and rise above any and all adversity he will face as a young Black man. Stick, Hook, and a Pile of Yarn is a remarkable collection that I had difficulty letting go of when I reached the final page. Through his masterful command of language, Seivwright delivers a powerful work that encourages readers to view the world from the lens of a person who sometimes felt as if he was on the margin rather than the center.
   — Angela Jackson-Brown, When Stars Rain Down

Seivwright has written an absorbing bildungsroman that meditates on what it means to be male and Black with cultural and spiritual homes in America, Europe, and Jamaica. These poems address familial relationships, personal challenges, and triumphs, but they also expand into something greater than the self, allowing us to see power, race, and resilience, in surprising ways.
   — Crystal Wilkinson, Perfect Black, NAACP Image Award Winner in Poetry
ABOUT Mervyn Seivwright:
Mervyn Seivwright writes to balance social consciousness and poetry craft for humane growth. A nomad from a Jamaican family, born in London, England, who left for America at age ten, and now residing in Schopp, Germany. Mervyn completed an MFA at Naslund-Mann Graduate School of Writing and has appeared in AGNI, Salamander Magazine, African American Review, and 56 other journals across six countries, receiving recognition as a 2021 Pushcart Nominee & 2021 Voices Israel's Rose Ruben Poetry Competition Honorable-Mention.
Broken Sleep Books
Join the Poetry Book Society for 25% off all books