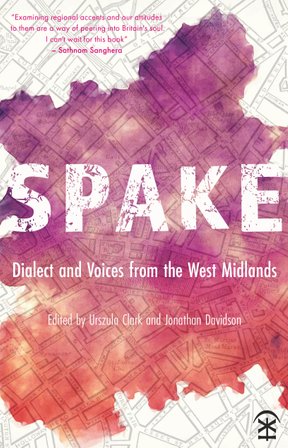 Spake is a love letter to West Midlands voice and a challenge the preconceptions and prejudices that abound about dialect and non-standard English.  Much maligned, frequently overlooked or simply left out altogether: the English West Midlands has for decades been diminished in the national conversation - and with it, the rich dialects and voices of the region are often misunderstood, ignored or worse – ridiculed and mocked. But who's to say that the way we 'spake' isn't every bit a vital and precious part of the landscape as other accents and dialects?
This anthology features contemporary writing that draws upon dialect in ways that explore the potential of the narrative and poetic voice, bringing to life the silent histories and harsh realities of a vanishing working-class way of life in what was once Britain's industrial heartland. From contemporary re-imaginings of the interwar decades in Steven Knight's TV series Peaky Blinders to Liz Berry's prize-winning poetry and up and coming new talent, this book celebrates and gives voice to experiences rooted in the region that have largely lain at the margins.
Featuring contributions from Liz Berry, Lisa Blower, R M Francis, Rupinder Kaur, Steven Knight, Paul McDonald, Roy McFarlane, John Mills, Emma Purshouse, Roderick Smith, Meera Syal, Julie Walters and Benjamin Zephaniah.
Join the Poetry Book Society for 25% off all books