Sometimes a Single Leaf by Esther Dischereit
PBS Winter Recommended Translation 2019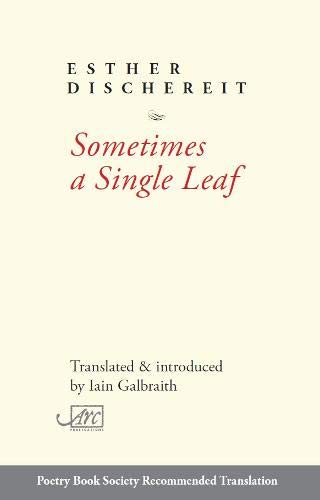 Whether in poetry, fiction, radio drama or sound installations, Esther Dischereit's work represents a unique departure in recent European writing: a distinctive, off-beat syntax of German-Jewish intimacy with the fractured consciousness and deeply rutted cultural landscape of today's Germany. Sometimes a Single Leaf, mirroring the development of Esther Dischereit's poetry across three decades, includes selections from three of her books as well as a sampling of more recent, uncollected poems. It is her first book of poetry in English translation. In the words of her translator: Esther Dischereits poetry offers a visceral pathography of post-war continuities, spectres, amnesia and trauma. Her work builds on the poets vulnerability and witness to a previous and ultimately un-sealable dimension a dimension inhabited in a different way by the poetry of Paul Celan in which the violations and degradation of the Shoah resonate with harrowing persistence in the detail of contemporary everyday life. At the same time, however, her poems test moments of personal and poetic redress, espousing forms developed in an incessant exploration of speech rhythms and images, celebrating the erotic and quotidian, experimenting with hope, seeking community.
Join the Poetry Book Society for 25% off all books