Silence River by Antônio Moura (Arc Publications) translated by Stefan Tobler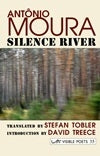 This is a selection of Antonio Moura's previously published books and the first in English/Portuguese. It has the clarity and urgency of a black and white woodcut. A playful collusion of experimental and traditional poetic styles, this collection has both a powerful mythic reach and a bizarre neo-Baroque flavour. Life appears as uncanny, mysterious, something to be faced by the individual. There is a tension between spiritual insight and the sordid realities of life, between the world of today and that of previous eras, between the wider picture and the intensely personal.
Moura's rhythms and his questioning of contemporary assumptions about poetry and our lives make this a powerful and distinctive - and one might say a very 'Brazilian' - book.
Join the Poetry Book Society for 25% off all books