Seriously by Jack Solloway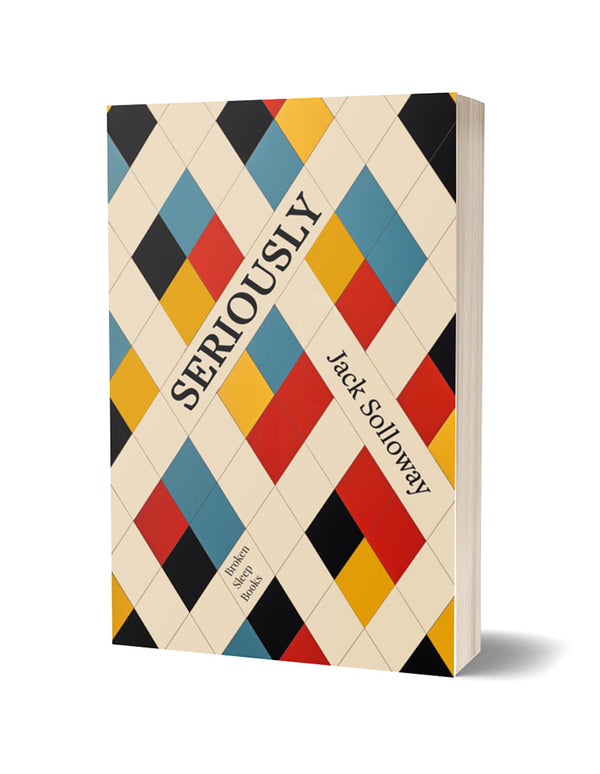 In Seriously Jack Solloway hopscotches the delicate boundary between comedy and catastrophe, inviting an exploration of the slapstick connection between the poetic persona and the unfortunate man-hole they inevitably stumble through.
This pamphlet boldly plays with various poetic forms, from sestina, mirror writing, and anagram to dialogue, concrete poetry, and illustrated verse. Some poems bear the weight of their ambitious design, such as a twelve-line sonnet missing its couplet in 'Queen Mab', or the flighty ballad in 'Fible-fable', which playfully leads readers astray into nonsense.
Throughout, Solloway's poems reside in intriguing grey areas, aiming to engage readers and implicate them in various ways, juggling elements of his own life experiences while maintaining the sense of irony and hypocrisy they entail. Seriously will seriously captivate you with its imaginative interplay of comedy and misfortune as Solloway pushes the boundaries of poetic expression with both daring experimentation and personal introspection.
PRAISE for Seriously:
Solloway's work takes a rare and refreshing joy in language, recognising that playfulness is, at heart, a very serious business.
   — Keiran Goddard, Hourglass
Upon each of Solloway's shoulders, Solemnity and Mischief sit, and each poem is tossed between their lips. Sound is made from sound, like poems from poems, and Solloway himself becomes the Foley artist: playing with each unreal truth so well that by stacking up their modern cacophonies they cannot help but sing. A joy.
   — Suna Afshan, Tape Letters
These poems are fanciful inventions running on dream and nonsense. Imagine a madcap inventor, sooty lab coat and safety goggles, building a time machine in their shed.
   — Liam Bates, Human Townsperson
Playing off Romantic poetry and nineteenth-century nonsense writing, Seriously adds an appealing note of twenty-first century pathos in poems like 'BBC commission' and 'Fancy dress'. Solloway has a gleaming eye for an image. I didn't know until now that moons '[moult] wildly over the slick' ('Lines on the Greenwich Fault'). I see now that they could never have done anything else. A welcome addition to the family of nonsense literature, in the best and broadest sense'
— Noreen Masud, A Flat Place
ABOUT Jack Solloway:
Jack Solloway is a writer from the West Midlands living in London. His poetry has appeared in Poetry Birmingham Literary Journal and Poetry Wales; his prose in The London Magazine, TLS, and Modern Poetry in Translation among others.
Broken Sleep Books
Join the Poetry Book Society for 25% off all books