Same Story by Kayla Martell Feldman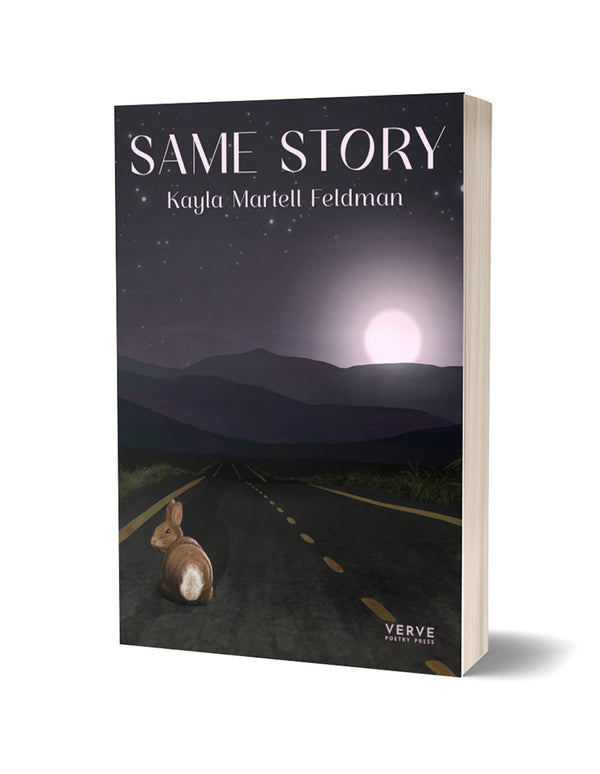 did you know that rabbits have white butts
to confuse predators?
as the rabbit runs away,
the predator zeroes in on the bright white.
when the rabbit quickly changes direction
they seemingly disappear.

Our bodies are described as temples, battlegrounds, playing fields. To be worshipped, weaponised, or toyed with. And yet, we are still telling the same stories over and over again. This raw and vulnerable collection explores the complexities of autonomy and intimacy as experienced in a body assigned female at birth, and the long-lasting effects of early messages about relationships and self-worth. Same Story is a hopeful meditation on healing, and how we learn to live with trauma through connection and tenderness.
"Joyful and hungry; a moving, kind, and powerful exploration of the tangled and sweaty rules of how we live and survive in our bodies. Same Story explores the joys and sorrow of being made of flesh and feelings and fluids and regrets and hope and space for more. It unpicks the endless lies we are told about our bodies, pulls back the duvet on shame, and lets us just be present with it in the moment." – Fran Bushe, author of My Broken Vagina

"Kayla makes it impossible for you not to laugh, and/or cry with them. A gripping ode to womanhood; I too wish someone had told me the scented soap thing earlier!" – Desree, author of I Find Myself In Simple Things

"Same Story effortlessly straddles the personal and political, navigating grief, friendship, misogyny, sex and family histories with an impressive deftness. It is at once a feminist manifesto and one of those sprawling late-night conversations with a friend where you discuss anything and everything, all wrapped up in a gorgeous poetry collection. Feldman's ever-present and beguiling voice moves through vulnerability, rage, comic bafflement and sage optimism, often creating an impression of barely contained chaos which is often neatly punctured by a wry insight about reality TV or group chats. Charming, exuberant and wickedly incisive." – Rebecca Cooney, author of Where the Lights Come On

"Kayla writes with a beautiful burning pride for all that she is as a person. Their work often gives raw, passionate insight to her experiences as a Queer, Jewish, neurodiverse person existing in all the joy and rage that that brings. Same Story reads as an intimate poetic journal that is comforting to anyone navigating the 'young person' to 'adulthood' journey looking for strength in our shared experience of life. The type of poetry book that invites you in and wants to be kept close to the chest, never shying away from honesty that is both delicious and devastating." – Caz Teague

"A fucking linguistic masterpiece. Spanning moments of doubt, to instances of self-affirmation and empowerment, Kayla courageously articulates a chronology of work that explores the complexities and nuances of their self-discovery. Whether you can relate to Kayla's experience or not, Same Story is a must read for those either new to contemporary poetry, or for those readily appreciative of authentic and introspective verse" – Hunter Poetry, Stonewall Housing ambassador and co-founder of The Big Queer Poetry Show
ABOUT THE AUTHOR
Kayla Martell Feldman (she/they) is a founding member of Sovereign Writers Group, a co-host of the Process spoken word poetry night, and an alum of the NO BORDERS Artists Project at the Royal Court Theatre and the Roundhouse Poetry Weekender. Their work has been published widely in the UK and North America. She has been featured on the Dead Darlings and Artists That Work podcasts, and won second place in the Crossing the Tees short story competition in 2023. They are a two-time Genesis Poetry Slam winner and have had work commissioned by JW3, Canada Water Theatre, Watch Your Mouth, Vashti Media, and The Narcissist Cookbook. Her play Watchdog was a top ten finalist for the Titchfield Festival Theatre Playwriting Award, received an honourable mention from the Jewish Playwriting Project, and was shortlisted for the RSC's 37 Plays Project.

Verve Poetry Press
Join the Poetry Book Society for 25% off all books