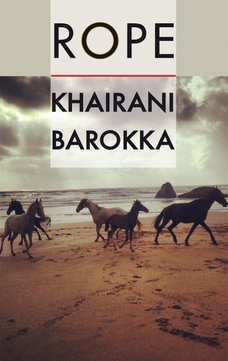 Khairani Barokka's first full poetry collection Rope is a spellbinding and impressive debut, kaleidoscopic in detail and richly compelling. With a meticulous artist's instinct, these finely-tuned poems ask urgent questions about our impact upon the environment, and examine carefully the fragile ties that bind our lives and our fate to our planet, our ecosystems and to our fellow humans.
Sensual and ecologically attentive, Rope draws on issues of climate change, sexuality, violence, nature, desire and the body. Lush with detail, alert to its own distinct sounds, this is poetry in urgent and vivacious action - intent on finding vivid joy and hope amidst the destruction and dangers of the twenty-first century.
Praise for Rope:
"With Rope, Khairani Barokka braids a helix from the "metronomic hum of human breath" and history's apparitions, daring to "strangle Myth / whole." These are poems to reach for in times of emergency, a nerve-bright lifeline for exploring how "Survival is an eternal thing." Polyphonic, and polychromatic, Barokka's work pulls us up from the brink "all-cells awake" to belt out to the void: "Thank you abysses, rock-bottoms,…morasses of salt — I am singing." What a blessing to have this lyrical, defiant book, this provocation and hymn."
- R.A. Villanueva, author of Reliquaria
"In a fertile genesis of tundra and twilight, with the life-giving tenderness of olive oil, spinach, and sambal, Khairani Barokka's radiant full-length debut, Rope, weaves the guiding lights of womanhood with a weathering of desire "quietly washing our skin / into the drains of Kathmandu." Here is a lush world of regeneration where "aubergines are nourished / from disintegrated bone," where a sea-turtle "is a [s]alt-tongued priestess," and where flood season changes "each ounce of rainfall" into a woman. Mingling syllables of Baso Minang, Javanese, and Indonesian with an Anglophone tongue, Barokka's voice transforms her polyglot, transnational experiences – of rogue loves spanning a quartet of continents, of cathedrals and archipelagos unmoored from empires – into a global compass rose, celebrating journeys of ruin and restoration with renewed praise: "Ada sungai di pesisir. Sini kalian. Ikat tali diri ke samudra. / There's a river on the shore. Come closer. Tie the rope of yourself to the sea." – Karen An-hwei Lee, author of Phyla of Joy and Ardor
"Rope
is the debut of a unique lyric voice -- inventive and varied, rich in imagery, and always rooted in a searching intelligence. These beautifully written poems fizz with all the 'shimmer and jazz' of modern life."
- Jane Yeh
Join the Poetry Book Society for 25% off all books