Republic by Nerys Williams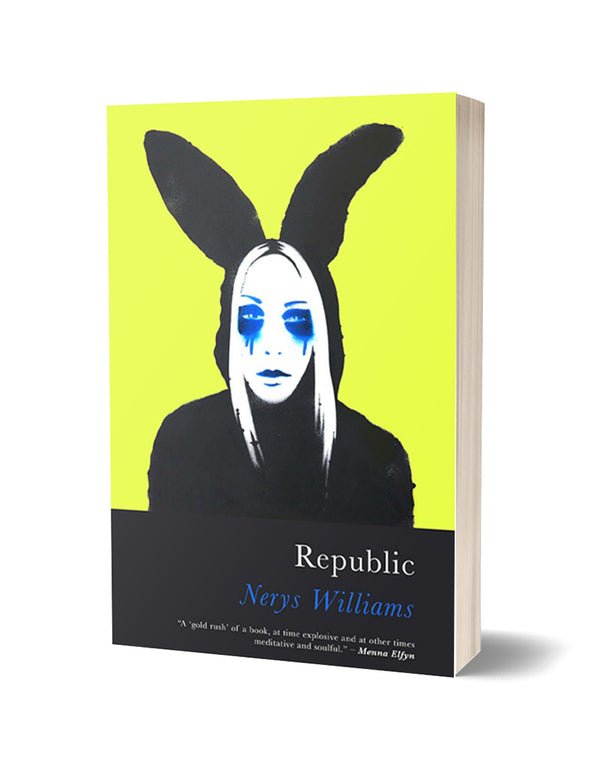 What constitutes a republic? Not Wales, a nation subject to military claims on its landscape and a second home explosion which has hollowed out its communities. The achievement of a republic can be a subversive activity, as was the writing of Republic.
Republic is about class, culture and community in west Wales. It recounts the story of a young woman growing up listening to the post-punk music of the 1980s and indie labels of the 1990s. These decades culminated in the explosion of "Cŵl Cymru" and new devolutionary powers in Wales.
In Republic offensive attacks on the Welsh (and Welsh language) are dissected with satirical humour and an appalled fascination. A token female outsider on a TV panel show is tolerated but studiously ignored. Acts of civil disobedience are reflected upon. A male account of punk rock is challenged and all hell breaks loose.
Republic offers stories that are overheard, handed down, magnified, often translated from Welsh. Its sequence of 80 prose poems creates a patchwork of narratives which share the challenges faced by women, Welsh-speakers, and other marginalised groups. This volume arose from the need to tell an alternative social history, one that commits an oral history to paper.
"Republic is a tour de force, a masterful account of the intellectual, political and personal. Pitched against nostalgia, Williams's prose poems are tough-minded, shrewd and hugely evocative of the times she chronicles." – Gwyneth Lewis
"Nerys Williams has written a 'gold rush' of a book, at times explosive and at other times meditative and soulful. Her magnificent lyrical inventions, veering from the zany to the profound, should make this a modern day classic." – Menna Elfyn
"A west Wales Baudelaire in Dr. Martens... The music and the culture of the times riddle this wonderful work like a string of lights." – Peter Finch
"This is a rampage of words, if Republic were it set to music it would be Nina Simone meets Crass." – Rhys Mwyn (Legendary punk rock musician, antiquarian and author)
"Each 20 sentence chapter is a gem. Nerys speaks to a generation growing up in Wales at a crucial age.  She transports you to the sounds of  her life in such a way they enter your own." – Patricia Morgan (Datblygu)
Seren
Join the Poetry Book Society for 25% off all books